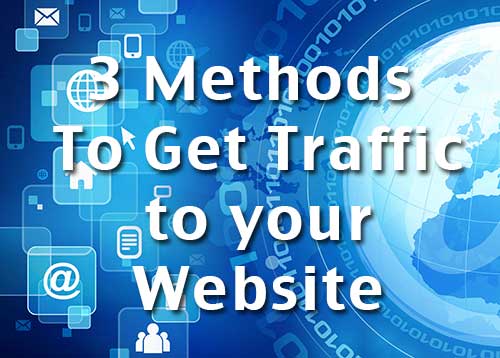 Every website needs one thing like humans need blood: Traffic. Without people coming to your website it is not worth a lot. Because when you have a website you want to sell a product, a service, inform or become an authority. All that you can reach when you have traffic. It makes sense to say that the more traffic you have, the more potential customers you have. For example: If you had 5,000 visitors on your site daily and in average 1% of them would buy something you would get 50 sales – that's a lot, isn't it? But getting there is the hassle.
So here are some tips I use to get more traffic to my websites:
If you need to get traffic fast, check out these techniques. They will work for you even if you just use them a few hours per week on your site. Even if you are new to all this, they will work and get your site out of the ground.
Six Hours: Pay Per Click Traffic
Pay Per Click (PPC) traffic is the fastest way to bring a traffic boost to your website.
You don't need to worry about algorithm changes of the search engines or about waiting for your brand to get established. All you need to do is whip out your credit card and let the traffic flow in. So if you have some money you can spend on marketing your site, you can use Pay per Click Traffic from popular sites such as Facebook or Google Adwords. But before you start, make sure you read till the end or you might waist money.
First, you need to come up with lists of keywords for what people are likely to type in. Then, you need to write compelling ads that'll get people to click. When you research keywords make sure you use (a) long tail keywords (you can research these with the LongTailPro Keyword Tool or Market Samurai) and also (b) ask yourself with each keyword if there is a "buying intention" behind it. Informational keywords will bring in traffic but that's it, they won't bring you money in return. If you advertise articles with affiliate links you may want to
Finally, you need to install tracking software that allows you to detect exactly which keyword(s) are converting.
Once you've done these three steps, activate your campaign and watch the traffic come flooding in. Just be careful: Set a daily budget which doesn't hurt or ruin you. Thing is that your campaign may need some tweaking before money will come back in.
Beside that, PPC has become pretty expensive so please make sure that you check back often and see if your campaign is performing well.
Two Weeks: The "Bum Marketing" Method
While this method won't work within two weeks consistently, it does often enough.
The "bum marketing" method is so named because it's supposedly so simple that even a bum off the street could do it. The method? Find keywords that have less than 10,000 competing exact-search results. Write an article for that keyword. Post it to an article directory. With the directory's PageRank, the article should easily outrank the rest of the competition, provided there aren't any super-strong sites in the 10,000 competitors. Make sure you target keywords with at least 1,000 searches a month. Success with this technique comes from doing many, many articles, not just one or two. This will cost you a good amount of time before you see traffic and with it money coming in but it will last when you do it consistently. Because you build backlinks on the one hand and get known on the other. It is still a good method but please be aware that it won't work from one day to the other. Plan on about 100 articles and you are on the save side.
One to Four Weeks: Finding a JV Deal
Finding and launching a JV deal takes a little longer, but can be very lucrative. A JV deal essentially means someone else agrees to promote your product. They send two to four emails out to their list promoting you. First, you need to land the deal. The best way to land JV deals is through friends and friends of friends. The second best way is to just call up potential partners.
Once you have an outline of the deal, you're not finished. You've then got to craft the emails, create custom landing pages and create tracking codes to make sure your partner gets paid. From start to finish, launching a JV deal can take anywhere from one to four weeks. If your partner has a huge and responsive list, this is definitely a great way to get traffic in. And because people trust your JV partner they are more likely to sign up for your product or service.
Each of these methods, if executed well, could bring in a lot of traffic. You could make a full-time living just from using these techniques well. Don't jump from technique to technique; instead pick one, commit to it and see it through. Like everything in life: consistency pays off with time. Just stay focused. Before you pick one method to get more traffic make sure that you list the pros and cons for each. While one costs more time than money the other might help you to waist a lot of money before it becomes profitable.
Filed in: Blog • Traffic Generation
Tagged with: get traffic • ppc
I'm Monja, the owner of several websites, amongst others
Digidesignresort.com
and
CMDacademy.de
. I make my money online since 2011 and as a teacher I love to teach others how to do the same - personally. You can connect with me here and on
Google +
Do you like what you read? Please Share