If you want to be successful online you truly need backlinks and also optimize your posts. No question about that. But beside that, and before you even get started, it is important that you choose to target the right keywords to target in your posts. If you don't choose the right keywords chances are that your article will never get seen. So it is really important to research before starting out. By choosing quick-to-rank keywords, you'll start getting traffic and profits right away, instead of having to wait months to see results. For some niches though, such as the Internet Marketing niche, these keywords are hard to find. There are programs out there which will help you to do so – e.g. Market Samurai and Longtail Pro (both come with a free trial so check out which one you like best). To me, it is a question of taste because I think both programs are really good and offer a lot of functionality. So use your free trial to get your own impression.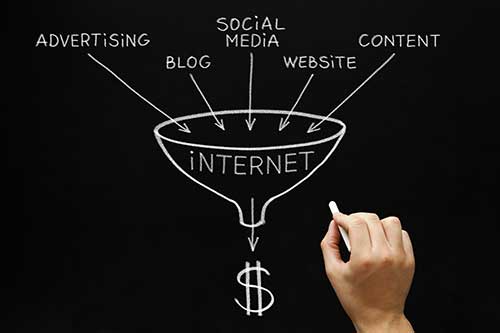 How do you choose keywords that you can rank for quickly?
Go for Long Tail Keywords
Generally, you'll want to be targeting keywords that are three words or longer. Target keywords with at least 1,000 searches a month. You won't be able to predict what Google ranks your post for. But you'll be able to direct it in the right direction. If you choose a keyword that has a buying intention on the one hand but also a good amount of searches on the other, chances are good that you'll rank for it and traffic will come to your site.
I usually do a research around a topic with Market Samurai and then see what valuable topics I can create for my audience out from that. The more crowded your niche is, the harder it is of course. But there are always words which are not that competitive. Choose those and just go ahead and write 🙂 Don't overcomplicate it, don't research too much – you need to write a lot before your site will be profitable so it is good to research but even better to write 😉
Evaluating the Top Five
Your primary aim is to get in the top five places as quickly as possible. There's so little traffic below the top five that it's not really even worth shooting for. The weaker the top five, the better your chances of ranking for those keywords quickly. First of all, evaluate whether or not the top five are deliberately trying to rank for the keyword you're targeting. There's a good chance they just ranked by accident, which will make it much easier to push them off. Ask yourself first if the information really answers the problem the user has? If not, it's your turn 😀 – then you can deliver a better review, a better how to article or a better video and easily outrank these sites.
With Market Samurai  you can check if they have the keyword you're targeting in their title tag? Is the keyword in their meta keyword tags? If so, then you're in for a tougher fight. If not, the going will be much easier. How many backlinks does your competition have? Market Samurai will also help here so you can try to get backlinks from those sites as well.
The easiest keywords to rank for will have competitors that aren't specifically targeting the keyword, that don't have many backlinks, that have low PageRank and/or low domain age.
Try to Find Keywords without the Root
Most keywords that contain the "root" keyword will have a lot more competition than those that don't.
For example, if you're in the diet niche, keywords like "best diet" or "low carb diet" or "six pack abs diet" are going to be highly competitive. On the other hand, keywords that don't have the word "diet" in them will have much less competition. For example, "get a 28-inch waist" will be much easier to rank for. As always – you'll get better with keyword research on time. It simply takes a while to get a hang on it.
If you combine these techniques, you'll have a solid strategy for finding keywords that you can rank for within some weeks. Remember that SEO is as much an art as it is a science, and that getting fast rankings is as much a function of putting up many pages targeting different keywords as it is picking good keywords.
Liked this tutorial? Then sign up for our newsletter!
Filed in: Blog • Traffic Generation
Tagged with: keywords • traffic
I'm Monja, the owner of several websites, amongst others
Digidesignresort.com
and
CMDacademy.de
. I make my money online since 2011 and as a teacher I love to teach others how to do the same - personally. You can connect with me here and on
Google +
Do you like what you read? Please Share