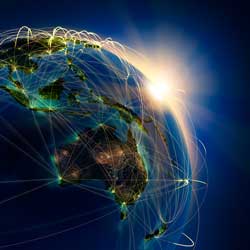 Traffic is the lifeblood of the Internet. If your blog is not getting any traffic, then you're not going to be making any money.
Sure, you can make some chump change selling links but the real money to be made is through traffic. Also if you don't get any traffic chances are people are not going to pay much money for a backlink to your website. See how it works? It all comes down to traffic. So, traffic is the key.  How exactly do you increase traffic to your blog? Increasing blog traffic is actually simpler than you think. Once again, it's about consistency and effort – unfortunately.
 Increase Blog traffic
1)  Create relationships
Your blog is not an island. Just the same as no man is an island so does your blog need friends. Get out there and mingle with blogs that talk about the same set of subjects you talk about. Chances are, no matter how unique or how weird your subject preference is somebody is already talking about it. Make friends with those blogs that already focus on your topics.  You do this by commenting on their blog posts and linking to your blog. The more you do this the more credible you become with those blog owners. Of course, you have to post quality comments. You can't just drop in, drop your link and leave. You have to invest the time and energy to make sure you are an asset to their blog by enhancing the quality of their blog post through your comments.
I know that is time intensive. So if you do this 2 times per day but on a consistent base that should be fine. These are about 60 comments per month and therefore 60 chances to get traffic to your blog. I think that is a good result for a month.
2) Get guest blog posts
Believe it or not, people want to post their blog posts on your blog. Why? For the most part, they want backlinks. They're in the same niche as you, and they want a link from a blog that is the niche of the blog they're trying to promote. Fair enough, make sure you set high-quality standards for the blog posts that you're going to be receiving. You don't want garbage to fill up your blog, right? So make sure you spell out your quality guidelines. Make sure that the guest posters add value to your blog. This means they must create a conversation between their blog and your blog.  Don't let them just take traffic away from your blog.
What I want when I accept a guest post is mostly actionable content. I want my readers to be blown away when reading the post. I want them to take action and that is what I'm looking for. Of course, you can set your own guidelines and it truly depends on the niche. I just think about actionable posts because I know that my readers want to get their own business out of the ground. It might be different for you. For example, a weight loss blog might profit more from the latest low fat recipes.
3) Use press releases to your advantage
Press releases have been used by companies for a very long time. The bottom-line is if you want to generate attention to your blog you have to use press releases. With that said, too many bloggers use press releases the wrong way. They think that press release is only a way to build back links for their blog. WRONG! Press releases exist solely for one reason, and that is to give editors, newspaper writers and bloggers enough information to write new stories. That's what they exist for so you have to write your press release to be news worthy so that whoever reads your news release has enough information to use your information properly. However, to save you some time, you might write your own press release but then go to Fiverr and have someone submitting it for you to different press directories. Have a look here.
4.) Video marketing is hot
The best way to get your name out there is to choose a market that is hot but not crowded. And so is video marketing and/or podcasting. These are things not everyone is comfortable doing and when you do it you get much more attention than with "just" writing. So if you decide to go for e.g. video marketing you do not need to put yourself on camera right now if you don't like it (maybe you do it later?). You can do screencasts or create presentations and record them – there are lots and lots of things you can do even if you don't feel comfortable in front of the camera. The point is just to do it properly. It doesn't matter if you start podcasting or creating videos. You need to optimize your skills with both media channels. I recently got a course from James Wedmore who is really committed to video marketing. He knows what he is doing and he does it successfully to increase his traffic and subscriber list. Here you can check out his course, Video Traffic Academy. The course has about 31 videos and sometimes these are quiet long (about 20 to 30 minutes). Once I started watching I was hooked though because James really gets into detail and I could see why my videos on YouTube had just not that much success. It is all about optimization and targeting the right keywords. James shows this in detail. His videos are entertaining (he really is an expert regarding video) and you'll definitely enjoy them.
Go here to check out Jame's Video Marketing Course
Remember: Don't go overboard with all "strategies". Choose one and stick to it, that is the best advice to give. If you don't do that you quickly feel overwhelmed and give up all together. That's not worth it. If you are just starting out you might want to sign up for our 30 Days Blog Action Plan (it's free) so you get a good start and learn how to implement things step by step.
Filed in: Blog • Traffic Generation
Tagged with: blog traffic • increase blog traffic • traffic
I'm Monja, the owner of several websites, amongst others
Digidesignresort.com
and
CMDacademy.de
. I make my money online since 2011 and as a teacher I love to teach others how to do the same - personally. You can connect with me here and on
Google +
Do you like what you read? Please Share