Sometimes it happens when you have lunch, sometimes when you have a shower and sometimes when you watch TV: There is an idea that hits you hard, one that gets you really excited and want you to start working on right now.  Maybe you can but more often you cannot and just write it down or simply keep it in your mind and "work" on it further. I know it happened to me during the night, I woke up and all of a sudden I had an idea I wanted to work on. Sometimes I was so excited that I even got my iPad and started making notes 😉
Then, the next morning, reality hit me: How do I ever accomplish that goal? How do I ever get a plan up and running to really reach the goal?
Yes, that's the reality. A great idea is something nice, doing the working is on another piece of paper. It happened to me when I first worked here on the LivingForMondays Academy. It wasn't that hard to make the decision to build a membership site. However, what was hard was to stick to the schedule, work on the videos, set up all the pages, get over the obstacles setting up the payment gateway, the newsletter and yes the content for sure. I wanted to throw in the towel more than once because it seemed to overwhelm me. As my business partner, my mum helped me to plan all the content but actually I had to do it since she does not speak English that well. The other thing was that we two haven't had done something like that before.
When I first started my digital scrapbooking site it was just trial and error to get it up and running. It was so much fun to see what worked and what not that I didn't waist a second thinking that it won't work. After all it was my hobby and wether it would or it wouldn't 🙂 I also never thought about being able to get enough traffic to the site. Those days I simply asked my friends to spread the word (they are all in that niche as well) and that helped me to drive 1,000 visitors per day there. I didn't think about failure, I didn't think about traffic, I just followed my passion – I know that is pretty greenly. But after all it helped me to stick through the whole process and overcome obstacles. If I felt I had no power anymore, there usually was someone kicking me in the butt and getting me back on track.
However, if you are alone, it is hard to stick to your schedule. No question.
So what do I do these days?
As I said, I have my business partner, my Mum, who I can talk to and who always helps me planning. But the key is planning and goal setting. Some things will be done easier than others that is just nature. But it doesn't matter when you have set goals.
Goal Setting for Newbies
Get yourself a huge piece of paper, you can use a wallpaper if you want. Get a pen, pencils, felt tips, a ruler and whatever you fell you'll need. Sit down on a table with a cup of coffee or whatever you prefer and wether have your business partner with you or close the door to have some peace. I start with the overall goal and why I want to reach that. I put a picture on the top which represents the reason why I want to work hard over the next couple of days, weeks or even months. It depends on the project of course. With that in mind I "simply" work my way down and put in some milestones, e.g. if I plan a new website my overall goal is the financial freedom and "laptop-lifestyle" which I already live but which is worth to "fight" for every time I start something new. Wether you believe in "The Secret" or not, the point is that visualization helps you to stick to your goals and follow all steps from bottom to top to get there.
Here is such a plan although it is a short and basic one so you get the idea. The real one I developed for my Agency Creativemediadesigns is very "dirty" – actually messed up since I scratch, color, mark or check off 😉 So hopefully you get the idea.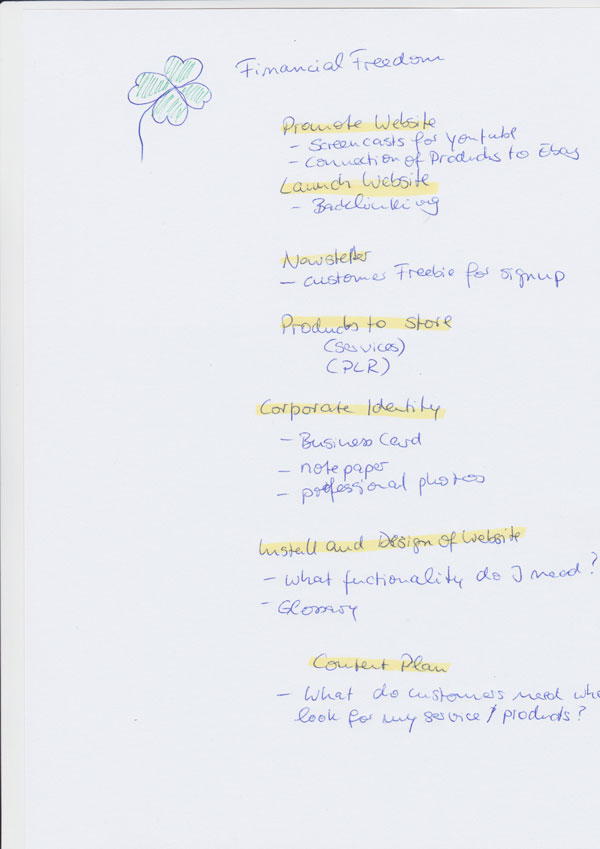 Of course you can add more stuff to it along the way. You can even use these little note papers and stick them to the huge paper. Just make sure you check things off you have accomplished – that is very motivating.
I have something else for you though, a free eBook. I so loved the book and it really helped me to stay motivated so I bought the rights to this book and now I'm allowed to give it away to you, my present for you 🙂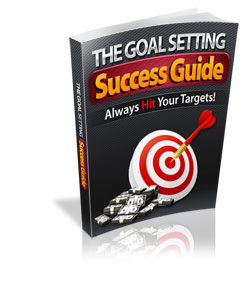 Goal Setting Success Guide
Anyone has another method so don't expect my method to be the one in this book, it's just another example. But maybe with the inspiration here as well as in the book you can find your own way to set your goals and stick to them.
Just click on the link, it is absolutely free of charge. A new window will open and you can save it to your hard drive.
The Goal Setting Success Guide
Another good reason to join the LivingForMondays Academy is for sure to have someone to talk to and brainstorm ideas. Do you know that it is totally risk-free? You have a 60-days money back guarantee!
Filed in: Blog • Internet Marketing
Tagged with: goal setting
I'm Monja, the owner of several websites, amongst others
Digidesignresort.com
and
CMDacademy.de
. I make my money online since 2011 and as a teacher I love to teach others how to do the same - personally. You can connect with me here and on
Google +
Do you like what you read? Please Share