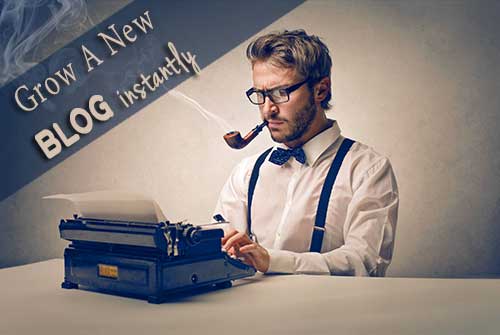 In this article, I am going to share with you 7 tips on how to grow a new blog in just 3 months. You will know how I planned, launched and grew my blog about crafts over the period of three months. While it is right that my blog did not have a big readership at first, it continued to grow as I kept on following the tips I collected from all over the web I am going to share with you in this article.
1. Community Management
Keeping in touch with your readership is of paramount importance if you want your posts to be read. If your posts are engaging, there is a good chance that your readers will keep visiting your blog for more. This way you will be able to stay in touch with them. I did a few things to keep engaged with my blog visitors. Especially at the beginning, when you just have a handful of readers it is important to treat them well.
I tried hard to write in an engaging style. Many of my posts ended with a question, which invite comments.
I responded to each and every comment on my blog.
I responded to each comment on my Facebook page.
I never ignored any Tweet on my Twitter account.
When you respond to your readers' comments, they will feel happy.
Moreover, answering to comments is a good way to reply to their questions and help them resole their issues related to your topic. So, I recommend that you never leave any comment, post on your Facebook page or tweet unattended.
2. Personality Driven Content
What do I mean by personality driver content? By this, I mean that you should post "Everyday Style" posts. In just a couple of weeks, I became known for these posts. What I actually did is that I had posted blog posts about a crafts party we had with a few women. Other posts were about how I spend my weekend when I was home alone and could do whatever I wanted – crafts in this case.
Aside from my activities on my blog, I also used Facebook as a means to share my day-to-day experiences with my readers. I shared with them funny family moments, questions, personal tips, and some humorous posts as well as some findings for crafts related to my site.
In fact, these things helped me a lot in maintaining engagement with my readers. I got a lot of "Likes" and my readers kept on growing fast. Maybe you consider to use this "strategy" which is fun because you enter a conversation with your readers. Hey, they may have more tips or similar experiences.
3. Helpful Content
Another thing that worked for me is that I filled my blog with content that help my readers solve their problems. I gathered as much information as I can about the topic; I collected information about the current trends and shared my discoveries on my blog. My research and findings were reflected in my content. My readers found my content really helpful. They posted comments to share their opinions. In fact, they asked for my advice in their comments. This is because they know that I was able to resolve the problem associated with that particular area. Doing this also means that I slowly become an expert in my niche.
4. Understanding the Target Audience
Unlike other people, I used to post updates to Facebook at about 7am. You may be thinking it is too early to post to Facebook since Facebook users don't check their Facebook status that early in the morning. But I thought that it was the right time because my readers could check them over breakfast. And guess what? I was right. I got lots of responses in just one after I posted updates. You need to try this for yourself. Ask yourself when you check your FB account first in the morning or last in the evening. This will be also the right time for your audience. Here the point is that you need to understand your target audience. As you can see I had a thought that my readers like to check Facebook on their phones over breakfast. And I was right. In the same way, as a blogger, you should try to figure out what interests your readers and what is the best time to post content for your readers. This applies to posting blog posts on your blog. Choose a day of the week and time of the day to post new articles.
5. Getting OFF your Blog
All my efforts were not focused on my blog alone. I also had some activities off my blog. This helped me a lot in getting traffic and monetizing my blog. I spend one day per week for my off blog activities. During that day, I take part in many different community activities. I went beyond just curing great content and returning the comments posted on my blog.
I did a whole host of activities: 
When I mentioned other blogs in my posts, I let the owners of the brands and websites know about it. (Many of the site managers and product owners contacted me and expressed their wish to work with me). I found other relevant Facebook pages and websites and engaged with them. I also got involved with other bloggers and small groups on Facebook. I responded to opportunities offered by other bloggers; I let them produce and post guest posts on my blog. 
Getting all these things done is not easy at all. You can do much more than that. But I was amazed to see that engaging with others and letting them help me grew traffic to my blog. Often times it was a win-win for both sites because I'd promote their products while they make a guest post, etc.
Now, the lesson I learned is that building a great blog is not enough if you want to get lots of effective traffic. You need to get off your new bog and perform other activities that could help your blog.
6. Getting others involved
Getting others involved in your blogging activities is a great idea. In just 3 months, I had 2 guest posts on my blog. Both posts were written and submitted by the same writer. He was my family friend. And the posts attracted a great deal of comments from my readers. In other words, the posts were liked by my readers.
The key here is that I looked for a writer who could write like me by following my writing style. Most bloggers out there don't accept blog posts on their blogs that are just 3 months old. But this worked for me. And this may work for you too. I mean what should be the problem here? Take each chance you get to be promoted by others. They also worked hard to grow their following and if they post a guest post on your site they most likely will give a link to their audience as well 😀
7. Image creation tools
For making my blog posts interesting, I mostly use Photoshop. If you don't have Photoshop (and most probably you don't need all its functions) you can use its little brother Photoshop Elements as well as the online image editing tools Canva and PicMonkey. Canva isn't open for the public yet but you can reserve your username and you'll get an invitation. PicMonkey will also help you to create great graphics but it costs a bit per months. With these apps, I created images for the products and articles I talked about on my blog posts. It is right that the visual aspect of my blogging will take some time to evolve, but these simple image creation apps got very popular with my readers. I wrote a few posts about how to use these photo creation tools for developing unique, interesting photos. Aside from using the pictures on my blog, I also posted them on my Facebook page.
There is a lot more to learn
By no means am I suggesting that I have become an expert blogger. I still have a lot more to learn. I just love watching my growth in my early months of blogging. And I love to share my experience with other bloggers who have just made a start on blogging. Hopefully, you can also grow a new blog instantly by following the strategies I mentioned in this blog post.
Filed in: Blog • Traffic Generation
I'm Monja, the owner of several websites, amongst others
Digidesignresort.com
and
CMDacademy.de
. I make my money online since 2011 and as a teacher I love to teach others how to do the same - personally. You can connect with me here and on
Google +
Do you like what you read? Please Share