It's finally there, the end of the year and yes, it seems like anyone else in this industry I'm busy planning. I already started planning with my Mum on our last work day this year on the 20th and I'm still in planning mode since I cannot decide what is best: plan the entire year or just map it out and plan January well?
I decided for the second option. We have a basic plan for the whole year, how we get our business to the next level, what products we release, how many new PLR packs we get out, etc. But we haven't set what we are going to write about for an entire year because I think you cannot do that – you simply need to react to things and experiences you make so it is better to plan out the year but not in detail too far ahead.
We are going to plan precisely for a month and then go for breakfast outside and do brainstorming (we both love that ;-)).
Beside that, I think it is time to implement social media more and more into our business. If you read my review about Lynn Terry's Social Media Marketing Results Course you know that we are not getting seriously into that. I put together a plan for myself and my Mum, additionally to the blogging planner, what we have to do daily.
I said you shouldn't overwhelm yourself and start out with one or two social media channels and I'm still convinced that this is the best way to go about social media but I will challenge myself for this site and get a bit further.
Here is what I plan to do daily to promote my Blog Posts: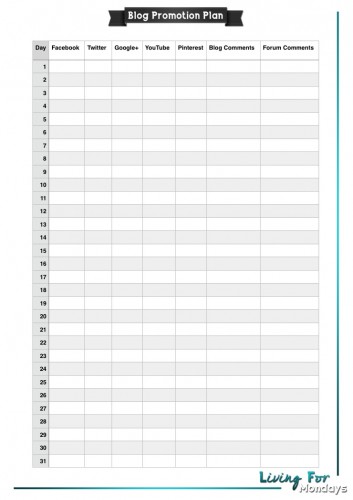 My goal is, once again, to publish articles on this blog daily and see after a few months which difference it makes to the business. However, beside "just" writing daily what I personally find hard enough (especially when you want to publish good content) I want to promote each post and the brand by doing the following steps.
Post the blog post manually to Facebook, Twitter, G+ and Pinterest
Spend 5 minutes on each of these platforms to like, share and promote other people's posts
Follow at least 5 people/pages on each of these platforms to expand my reach
Comment on videos related to my niche on YouTube – with my business name but without leaving links, just being there is the goal and be seen
Comment on 5 articles in my niche
Comment in a forum in my niche
I think these actions done every day will cost about 1 to 1.5 hours but I believe it will be well worth because it gets me and my brand in front of people. I will see after a month what results I can announce. I believe that the best way to success is consistency. Even if I'm not able to do it all every day. Doing some of these things will truly help to get our business to the next level.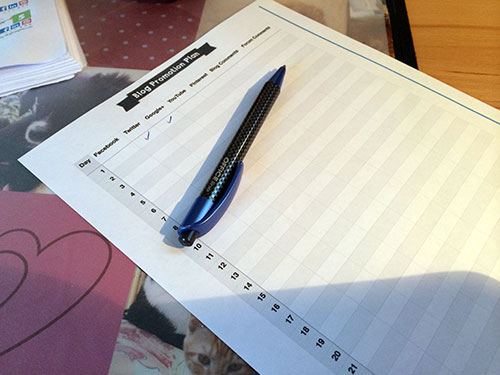 To do so I've created myself a basic sheet so I can just scratch out what I have done every day 🙂
If you feel this would help you as well, please grab it here. It is a PDF document you can just print out, put on your desk and check things off you've completed. Will you join me? I think it is much more fun if you are not alone. Even if you don't start on January 1st – don't worry. You can start doing this at any time, it is NOT just the first of the month you can start but each and every day.

Please subscribe to our newsletter and you can download the PDF right away. If you like this, I'd totally appreciate if you share it with your friends.
Not sure who said that but I am a big believer of this quote:
Success means doing the right things day in and day out.
So true. There is nothing like overnight success.
If you really want to dig deep into social media marketing and grow your business you might want to check out Lynn's Social Media Marketing Results Course now
We can do that together! Let's get into it now
Filed in: Blog • Blogging Tips
Tagged with: promotion • traffic
I'm Monja, the owner of several websites, amongst others
Digidesignresort.com
and
CMDacademy.de
. I make my money online since 2011 and as a teacher I love to teach others how to do the same - personally. You can connect with me here and on
Google +
Do you like what you read? Please Share