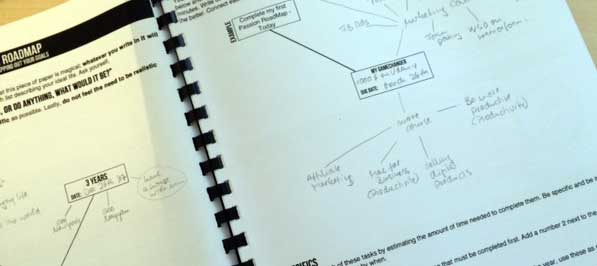 Productivity is a hard thing. Some days it comes easily. You start in the morning and jump right away on the train and get everything done you have to. The next day you are distracted a few times and your productivity is gone. You sit on your computer and if you are anything like me you stare on your screen and you feel: nope, there is nothing which really needs to be done (or I talk myself out).
This year I thought I need to 1. simplify not just my digital life (means clean up my computer) but also my business (offer less products and really concentrate on the marketing) and 2. I need to create new digital products to get my business to the next level. After all, the more products you sell the more money you'll make, right?
To be honest, I believe that the contrast is true. You can create many products, of course, but not in a short amount of time. It is much better to really concentrate on one and give it your very best and then, from there, move to the next.
I had a hard time at the beginning to plan the project itself. I knew what I wanted, I knew what to do but sizing it down into manageable tasks was the the problem – at least until I bought the Passion Planner. The Passion Planner is a journal which helps you to lay out your tasks to get to a certain project done. We start by creating a passion roadmap and then we get it down to a 3-months gamechanger. The gamechange is what will be divided into manageable chunks and added to your calendar. Doing so will take the pressure from you. You have a bigger goal in mind but, every day, you just walk slowly towards your weekly or monthly goal. I know, that is nothing new and that is how a project works. But writing it down will hold you accountable. So Passion Planner is my No. 1 tool for productivity.
You can grab the Passion Planner here. There is a free PDF Version, but I've ordered the planner. Won't be here before March but OK 😉
And just because I wanted to really do it well this year I also bought Leonie Dawson's Biz + Life Planner. Why? Because the Biz Planer (haven't checked the life planner yet) has a section where you can "finish" and close the former year. You evaluate what worked and what didn't. You look at your goals and if you could accomplish them. You look at all the different sections from social media growth to the money you made. Leonie has a nice way to say it: You are sometimes afraid of the numbers. And yes, that's true. I've been hiding so long and haven't checked my business stats every month at least – at least not the financial stats. I worked and good. I saw on my bank account if I was doing well or not. I also saw it on the amount of money the accounts were showing up so I had an overview somehow. But it didn't feel good. It didn't feel like I was really control my business. So I believe that planner will be also a great help for you. Check it out 🙂
Filed in: Blog • Blogger Tools For Online Business
I'm Monja, the owner of several websites, amongst others
Digidesignresort.com
and
CMDacademy.de
. I make my money online since 2011 and as a teacher I love to teach others how to do the same - personally. You can connect with me here and on
Google +
Do you like what you read? Please Share