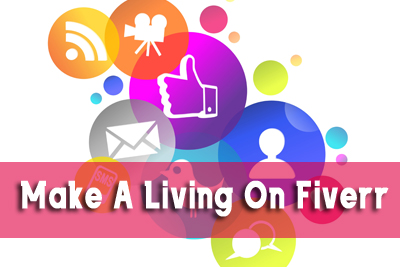 Fiverr is that $5 services customers love. You can get nearly all and everything for just five bucks! No need anymore to buy expensive services for traffic generation, logo design, or business card creation. You just go to Fiverr, look for a special Gig (that's how Fiverr offers are called) and you are ready to go. I already purchased a lot of great things there. Someone worked on my DVD label, another person recorded a voice over for me for my podcast. Also, I purchased some other services, e.g. articles for one of my niche sites. Surprisingly, most of the things I've ordered were great quality. Some sellers have nearly outdone themselves to make sure that I was happy with what I had ordered. And for some Gigs I spent much more than $5 – e.g. when I needed it extra fast or with a PSD file included to make it editable later.
So why is it worth for sellers to sell on Fiverr anyway?
I'm an active member of the WarriorForum and by luck I stumbled over Eugenio, a very friendly guy from the Philippines who makes a living on Fiverr.  Yes, that is possible. Although you just earn a few bucks per order you can make a living on Fiverr. Of course, this is much easier if you live in a country such as the Philippines where things are much cheaper than here in Europe or the US. But no matter where you are, you can earn some serious money if you are willing to put in some extra work.
I asked Eugenio for an interview, I thought it would be great to learn more about how he makes a living on Fiverr. Even if you don't make a living – it can be a serious source of income.
When you just start out on Fiverr you can't sell anything for more than $5 but once you made a few orders you move up into the different levels and you'll be able to add more services. As I mentioned above, you can order e.g. a PSD file of your logo or an extra fast delivery. Or, if you order an article with more than the words offered in the basic Gig you also might pay $5 extra. And then it starts to be worth for the sellers as well. Because if you earn for your service not "just" $5 but e.g. $15 it slowly will be worth your time and effort. Beside that, happy customers come back.
Now, let me introduce our Fiverr and Copywriting Expert Eugenio to you
Hi Eugenio, welcome to LivingForMondays and thanks a lot for the interview! Can you please tell us a bit about yourself?
My Warrior Forum ID is writeaway and my Fiverr name is Eugeni0. I am 45 years old and married. We are expecting our first child 🙂 I was born in the Philippines but grew up in the US. I was in the US for 24 years before I decided to move back to the Philippines. I am, however, an American citizen and I graduated from the University of California at Berkeley with a degree in History. I wrote quite a bit for my degree course. This is why I love to write.
Why did you leave the US?
I left the USA because I have always wanted to 'come home' to my homeland, the Philippines. I feel I belong here. I started by own outsourcing company and I have had clients from all over the world.
Is Fiverr the only place where you get orders from? Is it worth because it really is a small price? If it is – how? Because of the additional offers?
Fiverr isn't my only source of orders. I do have loyal clients who get to know me from forums. The main reason I offer my services on Fiverr is that I love to write. Volume writing is really intriguing to me. I have gone from barely 2000 words per day to over 12,000 words per day – thanks to Fiverr! I use Fiverr for volume. I am continuously challenging myself to write high quality materials very quickly. Writing for Fiverr clients helps me engage my problem-solving and time management skills.
I have found that the skills I have fine tuned through Fiverr's volume have enabled me to provide even better service to my regular writing clients.
If not – where else do you get orders from?
Forums and word of mouth, primarily. I am thinking of setting up a dediicated site later to offer my writing services.
You once said "robots don't have credit cards" and I totally agree with that.  Also, that makes your services awesome for all of us who need a lot of quality content. Why don't you start your own website – most people struggle writing and you obviously not – wouldn't it be a great idea to set up a site and write tons of articles for your own? Or maybe you have one?
I am thinking of starting my own website. If I go ahead with it, it will have a main sales page and a blog to engage readers and attract search engine traffic.
Where can I find your services? Can I order them from somewhere else than Fiverr?
Anyone interested in my services can email me at customer_care@marketingcopyexpert.com  As an ADDED BONUS for your blog's readers, if they email me a link to this interview, I'll give them a FREE 200 word sample 🙂  Only one sample per customer please.
Do you have any traffic ideas beside copywriting or do you think that is the future and best investment?
Content is king. I say this not just because content creation is my livelihood. I say it because it is the truth. No one can sell without building trust through great content. No one can build a brand without good content. No one can become a social media star without, you guessed it, great content. When I say 'content,' it can run the gamut from videos to infographics to standard written content. Content is how you build trust online. It won't go away. With that said, you still have to 'light the fuse' of good content. Writing or buying great content and just putting it on your site won't do anything. You have to put in the effort to get the word out. Great content needs less work. Sub-standard or generic content needs more promotional work.
You are right. After all, even if Facebook, Twitter and Co. change their rules, your website is under your wings and you can do with it whatever you want. Content for your own site is a great investment. If I want to order a large amount of your articles – what makes sense from your point of view?
You can order as much as you want. I specialize in writing about the following:
weight loss
Internet Marketing
SEO
self-improvement
self-development
online business
christian themes
personal finance
However, I can take other topics that are not on the list above. One of the things I love about my profession is that I get paid to learn. I have written on all topics from boat trailers to back braces to saving money to hostgator coupons to empower network to Pinterest Marketing and all points between. I love to write and I love figuring out new ways to engage the reader. No topic needs to be boring. If your stuff is boring, it's not the subject matter-it is your presentation. I make it my mission to find creative angles to make a topic come to life and emotionally engage the reader while complying with SEO standards and requirements.
What other plans do you have for your business?
I plan to build out my Fiverr presence even more. I am venturing out into traffic generation. That's an exciting field. I am also experimenting with ways to sell original articles that come with traffic packages. How is this possible? First, I sell the article to the buyer and the buyer posts it on his or her site. Once I get the published url, I drive traffic to the post. I haven't heard of anyone offering article services with these features.
Euginio, thanks a lot for the interview!
If you want to learn more about methods to make money online you can join our academy here.
Filed in: Blog • Internet Marketing
Tagged with: copywriting • fiverr
I'm Monja, the owner of several websites, amongst others
Digidesignresort.com
and
CMDacademy.de
. I make my money online since 2011 and as a teacher I love to teach others how to do the same - personally. You can connect with me here and on
Google +
Do you like what you read? Please Share