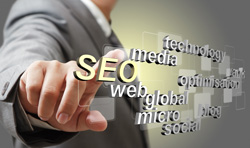 According to a New York Times survey which was done several years ago, the vast majority of blogs die. Thousands of people start blog everyday but after a few weeks, most of them stop. After a few months almost all of them stop. This is alarming in many different levels but shouldn't be surprising because people start blogs based on passion. They get excited about certain things. They are emotional and start up a blog but when the feeling passes, their blog dies with those feelings, passion or energy level. This is fine if you are blogging for personal reason. However, this must not happen to you if you are blogging for business reasons or more importantly, to make money online. How do you build a blog that matters?
1. Blog about things that matter
Many people blog about things that matter only to them. Guess what, the world doesn't revolve around you. There are many other people all over the world and you have to focus on needs that are quite popular. When people feel that they need your blog, it matters. Ask yourself: what matters to to others? Would you read about that on other people's blogs?
2. Focus on creating blog relationships.
Have you noticed that very popular blogs always have links to each other? This is because they create conversations between different blogs. This means that conversations between people who read two different blogs. This is a very powerful traffic-building and a powerful branding technique. When an influential blogger links to your blog, this blogger is giving you credibility in one way or another. By engaging other bloggers who are already influential in their own spheres is a great first step in making your blog more social and note-worthy. That is a key step in your efforts to build a blog that matters.
3. Invest in quality graphics
Sadly, as people use the Internet and become familiar with processing information through their experiences on the Internet, many people are developing attention-deficit disorder. There are many studies that indicate the co-relation between Internet usage and information process. So if you want to connect with your readers, you cannot drop a huge block of texts and expect somebody to read that.  Instead, you need to offer short pieces of texts but there has to be some nice-looking graphics that sum up what you are trying to say. As the old saying goes, "a picture is worth a thousand words." On the Internet where attention-deficit disorder is rampant, a picture is essential. You can't blog without it.
If you want to build your own blog that matters, check out our course. You can first subscribe to the newsletter and try out our 30 Days Blog Action Plan.
Filed in: Blog • Blogging Tips
I'm Monja, the owner of several websites, amongst others
Digidesignresort.com
and
CMDacademy.de
. I make my money online since 2011 and as a teacher I love to teach others how to do the same - personally. You can connect with me here and on
Google +
Do you like what you read? Please Share