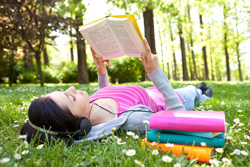 Several years ago, it was so easy to make money online that there was a term coined called "bum marketing." In other words, you can be a complete bum with no money, no assets, no resources, only an internet connection and still make money. All you needed to do was to be able to get on the internet and with bum marketing still could make money. The secret – bum marketing was all about article marketing. Basically, you just wrote an article based on longtail keywords and put them on websites called article directories. At the bottom of your article you can use the author resource box to add a link. When people click the link, they go to the affiliate program that you're promoting. It was very simple and very straightforward that many people made thousands of dollars every month just doing bum marketing.
Well, the Internet has moved on since those days. First of all, many article websites no longer allow affiliate links. You have to go through certain hoops to be able to publicize an affiliate program and still possible but you have to own a website now. The next stage of the evolution of article marketing is to use it as an important source of backlinks for SEO purposes. In search engine optimization, websites link to each other as a way of telling search engines which websites they trust with certain keywords. The logic is that if enough websites link to you using a particular keyword, then chances are your website has something to do with those keywords. As you can see from this explanation, it can easily be abused when people were abusing it and that's why Google launched the Panda and Penguin updates, and recently even the Panda 2.0 update.
The Panda update pretty much knocked out a lot of the SEO value of article directories. It used to be that all you needed to do was published lots of articles, submit them to article directories and build backlinks to your site for you to get lots of free yummy traffic from the search engines. It's no longer that easy and also you have to produce original content.
So based on all these changes, is article marketing still worth doing?
The answer is ABSOLUTELY. If you want to do article marketing right, it will always be worth doing. Why? You have to use article marketing the way it was intended to be use. This means that you have to write high quality articles that are original for that specific article directory you are submitting to. Why do these? There are many people that visit those article directories who need content and then they would basically copy your article with your link on it and syndicate your content. While the number of people who do these is unknown, it still happens frequently enough for many article marketers to make a decent living just cranking out high quality original content and submitting them to article sites.
Another reason why article marketing is still worth doing is that it gets the word out about your particular product or service. It clues people in regarding the need for the product or service that you are offering. It's a way for you to stir public opinion. These don't produce a quick pay-off like bum marketing or SEO article marketing but it does add to the momentum of the idea or cause that you are trying to champion.
I just started with article marketing (more intensively) last week on Ezinearticles.com. I had an account there forever but hardly used it. At the moment I try to submit 2-3 articles every day. Of course it won't last forever because high quality articles simply need time but here are the results from one week: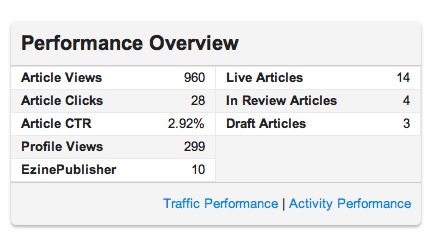 As you can see I have 14 articles online. 960 people viewed my articles although this number went up dramatically after I had around 6-8 articles published. I have a long way to dominate article marketing but there are already 28 people who liked my content enough to visit my site. Beside that, they might grab the article and post it on their own site – with my author box. And that is actually what I'm looking for because that is also where I get the backlinks from.
Make sure that you change the resource boxes (the place where you can add your link to). There, also change the anchor text you link to your website with. Make sure the article matched the link, e.g. if you write about dog food, make sure the link in your resource box goes to an overview of dog food.
These are mostly the results of one week. As you can see, it is worth doing it but with all things online you need to be persistent to make a use of it. Don't publish 5 articles and expect your visitors to explode. Write 500 and you can see it will happen 🙂
I know we all need a lot of content to get our Internet business going. You have two options for that.
1. I recently interviewed Eugni0 who makes a living on Fiverr. Eugeni0 writes 2 articles à 400 words for you for $5. You can learn more about him here and in my Podcast. Or you can use the second option:
2. Buy PLR articles. PLR means Private Label Rights. These are articles you can re-use to create your own content from them. Buy these articles and use them correctly: Use them as an inspiration but make your own content from it. Try to rewrite or add additional text as much as you can. You really want to give these articles your voice and your opinion.
You can get high quality articles here:
AllstarPLR or here PLRMiniMart Tiffany Dow. My other favorite writer is Wendy from PLRNook.com
As I said – whatever you do, stick to it. You won't see any results when you publish three articles. As so many other things online, if article marketing works or not is also a question of consistency.
Filed in: Article Writing • Blog
Tagged with: article marketing • articles • content
I'm Monja, the owner of several websites, amongst others
Digidesignresort.com
and
CMDacademy.de
. I make my money online since 2011 and as a teacher I love to teach others how to do the same - personally. You can connect with me here and on
Google +
Do you like what you read? Please Share