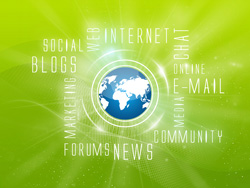 Which would you rather have, a huge river of traffic or a small stream of traffic? Of course, your answer would be the former. You would want a huge river of traffic. Who wouldn't, right? The problem with that answer is that everybody and their dog wants that big river of traffic and as a result a lot of people would put in a lot of time, effort and money  trying to build a huge river of traffic to their website.
In the search engine optimization game, this means they would target keywords that have a huge search volume every month. Nothing wrong with that, but the problem is that you need to have a lot of money in order to play that game. If you are most people (me too!) who want to make money online but don't have a huge budget or want to invest a lot of money, then you have to fight this battle the smart way.  You have to shoot for the latter scenario; you have to dominate a small stream of traffic. So how does this put money in your pocket, if you just own a small stream of traffic? The good news is that small streams add up to a huge river, in other words you can end up with the benefit of the first scenario while pursuing the second scenario of smaller traffic streams. The secret: longtail keywords.
1) Why does long-tail keywords matter?
Long-tail keywords are obscure terms that people search for which don't get much traffic. They are very specific and they really get to the meat of a particular topic so not too many people search for them, and that's why they're important to you. When not too many people search for them there's not much competition for them, normally speaking. However, there are other people that are smart like you who would try to create traffic streams as well. So you just have to pick long-tail keywords that don't get much traffic yet get enough traffic to be worth pursuing, while at the same time don't have too much competition. The good news is that there are lots of these keywords; you just have to find them.
If you wonder what a long-tail keyword is: when you go online you seldom look for "jeans" on Google when you try to buy one but you'd look for "blue jeans Levis" – you you might be even more specific. Think about what people are looking for and don't forget: these keywords need a buying intention.
Spencer Haws recently showed on his blog how he got a keyword ranking number one in Google using long-tail keywords. After that he opened a course for doing exactly that, searching for long-tail keywords. If you want to dig deep into keyword research, you should check out his LongTailClassroom here.
We also discuss keyword research in the Living For Mondays Academy.
2) Use the right tools
Tools like Market Samurai, give you an idea as to the competition level of certain keywords. When you are trying to pick out which long-tail keywords to pursue it's all about competition. This is the number one criteria you should pay attention to. How much competition does the long-tail keyword have, because if it has too much competition, then it is not worth pursuing. Use the right tools to get this crucial piece of information.
 Get your free 14-days trial of Market Samurai here
3) Write quality content based on that long-tail keyword
Don't commit the sin that many longtail keyword marketers use, which is using long-tail keywords just as window dressing to get traffic from search engines and then driving people to pages that are irrelevant to the keywords. Google is wise about these and has been penalizing pages with its Panda update. Don't become a casualty and deliver what you promise. So if somebody uses a longtail keyword to arrive on your page, give them what they came for. Don't forget: you never know where someone stumbles over your page. It can happen that they come to your front-page but more often than not they come to a specific page they searched for.
When you just start out, try to build a long list of keywords you can write about. The more you have, the better. You don't want to suffer at writer's block. And you can't when you have a list on your hand you can make use of. Here also Market Samurai comes in to play. When you put in a keyword you can ask the program to generate more, related keywords. This is also a tremendous help.
 Get your free 14-days trial of Market Samurai here
Filed in: Article Writing • Blog
Tagged with: Keyword • keyword research • long-tail keywords
I'm Monja, the owner of several websites, amongst others
Digidesignresort.com
and
CMDacademy.de
. I make my money online since 2011 and as a teacher I love to teach others how to do the same - personally. You can connect with me here and on
Google +
Do you like what you read? Please Share