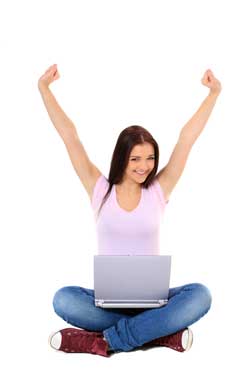 Every once in a while it happens: Although you have a blog you love and although you love writing you are just stuck. You can't think of anything else to write. But hey, don't worry – it happens to all of us. It is a common phenomenon that happens to bloggers, designers, and in general all kind of creative people. You can't be creative by a push of the button. When it happens, don't stare at your computer screen for hours. There are a few things you can do, e.g you can use blog article templates to get the creative juice flowing again. You can check out our tips against
writers block here
and
here
.
But you can also try to use our Blog Article Templates:
Template #1 – An In-Depth Analysis of Technique X or Theory Y
You are most probably a reader of a blog in your niche which is really popular and has tons of really popular posts with techniques or theories the blogger came up with. Take a popular theory or technique and dissect it. Take apart its strengths and weakness, point out things others hadn't noticed before and give extra tips for people who want to use the technique. You maybe also want to point out some new facts because the post is outdated. Don't hesitate to link to the post on the blog you are looking at. If the blogger uses a Pingback you also maybe get a link to your post. You maybe also get in touch with the writer: Maybe he is interested in replying to your post? You never know and you two might come up with a nice cross-blog-conversation.
Example: The strengths and weaknesses of backlinking and how it works today
Template #2 – Prediction about the Future
On the Internet and in many many markets, things change all the time. Make a strong case for what you believe is going to happen in the future, with an emphasis on how it'll affect the reader. This is always great to start a discussion. If we are effected we are more likely to give our opinion.
Example: What do we do after Penguin and Panda and how to recover your hit websites
Template #3 – How to Do X (Tutorial)
How-to articles are great fun to write and great for your audience as well. Everyone is looking for advice on how to do xyz. So when we stumble on really valuable How-To articles we don't just read them but bookmark for later reference or share them with our friends. This e.g. happened to my Pinterest guide. It took me a lot of time to create, add videos and explain things in detail but it was well worth. These are so-called epic posts which are shared and most probably are there forever. Wouldn't you agree that it is well worth to spend writing 10 hours on a post that is there and driving traffic for you forever?
Template #4 – Common Questions and Answers
Use the questions you get by Email from your visitors to answer them in a blog post. This has at least two advantages. First of all, that person won't be the only one having this question. Next time when it is asked in the search engines, your answer will come up so it is also some kind of epic post. Second, you don't have to answer the same questions again and again for one person every time but you can help tons of people. Each question is worth a separate blog post and therefore you get content for your blog while you help your readers.
Example: Q: How much money do I need to start an Online business? (Answer)
Template #5 – Why X Popular Sentiment Is Wrong
Take a popular sentiment in your industry and take the opposite stance. Don't make people mad at you. You also want to point out what is right about their statement and then show others why you believe that the opposite is true. We can do that respectfully, no need to stir up.
Example: XY believes that back linking doesn't work anymore after Penguin and Panda. In fact, the opposite is true: I've recently done an experiment and here is what I discovered:
Template #6 – X Signs of Y
Try to find some signs of X that Y is true. Usually when I find a post like that it quickly gets my attention because I want to check that this or that doesn't happen to me 😉 – just human I guess.
Example: Five Signs that your visitors don't like your content much
Template #7 – Share a Personal Story and include a Lesson you've learned
Tell your readers a personal story that ends in an educational lesson. When you really think about it, it happens quiet often in life. You stumble in a situation and you take a valuable lesson out of it. Share it with your readers, they might have experienced the same.
Example: How I learned to eat healthy at a restaurant
These are seven blog article templates you can use anytime you hit against writer's block. You can use them again and again, with some time in between. It is not entertaining if your readers always learn about something in-depth or you keep blaming XY for being wrong. Vary whatever you write – there are so many different kind of posts you can make and that is what the fun it when it comes to blogging.
Filed in: Article Writing • Blog
Tagged with: blog article templates • blog articles • writing ideas
I'm Monja, the owner of several websites, amongst others
Digidesignresort.com
and
CMDacademy.de
. I make my money online since 2011 and as a teacher I love to teach others how to do the same - personally. You can connect with me here and on
Google +
Do you like what you read? Please Share