It is not easy to give each visitor a positive experience on your website. Actually, it is pretty hard because anyone has different experiences with websites and definitely expects different things.
I've collected six tips to increase your website accessibility:
1. I know these days we need Captcha to prevent spammers to post on our sites. It's an absolutely must have if you don't want to be swamped with 100s of comments. But sometimes these CAPTCHAs are so hard to read that they prevent even real humans from leaving a comment or registering. Make sure that is not the case. Wether ask a random question people have an easy answer for or ask them to enter a letter or two from a sequence of letters. That make it doable for any person.
2. Make sure you tag your photos properly. If a user has photos on a website blocked for any reason or if they are blind and have a program to read out the website, they miss an important part of your site if you don't have your images tagged. Fill out the ALT Tag when you add a picture to your site. It is quick and easy to do and a huge benefit for your site and even adds to your SEO improvements.
3. If you upload an image to your website, make sure it is optimized for web. This means: Don't upload too large pictures. It is not necessary to use pictures with 5000 px because these pics simply slow down the website immensely. It is better to first save them for web and maybe reduce them to a size of 250 px or 300 px (maybe a bit larger depending on your needs) before you upload them to your site. This increases the loading speed of your website. Not just Google will honor that but also your visitors.
4. Make sure you use standard files if you upload documents. Make sure any content published or available on your website is available in a readily accessible format. For example, PDF documents are easily viewed by any system. MS Word files or WordPerfect files are not.
5. You need an accessible navigation to make sure that people dig deeper into your site. Make sure each button, category, or action step is easy to find and understand. The more straightforward your website navigation, the easier it will be for each and every visitor to access your site's pages.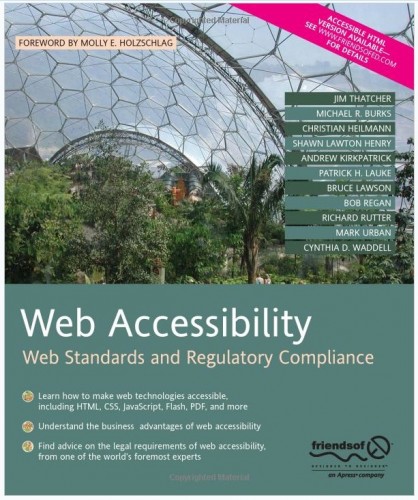 6. Nothing is as worse than having your links in the same color, font and size and not even underlined. Make sure your links are obvious. Text links, embedded or otherwise, all need to stand out from the rest of the content. Consider bold, underlined or colored formatting to set them apart. People expect links to be underlined and often times even blue. Make sure you address that in your website accessibility.
The more accessible your website has, the better is your user's experience. Make sure each and every visitor, regardless of their ability or technology, can experience all your site has to offer. There are lots of good books on this topic. Don't forget: If you care about your website accessibility the search engines will honor that as well. So it is a good investment of time and energy to dedicate some time to the user's experience. If you want to learn more about how to make your website accessible, please check out this book where I found these tips in. There are many more.
Filed in: Internet Marketing
Tagged with: website accessibility
I'm Monja, the owner of several websites, amongst others
Digidesignresort.com
and
CMDacademy.de
. I make my money online since 2011 and as a teacher I love to teach others how to do the same - personally. You can connect with me here and on
Google +
Do you like what you read? Please Share