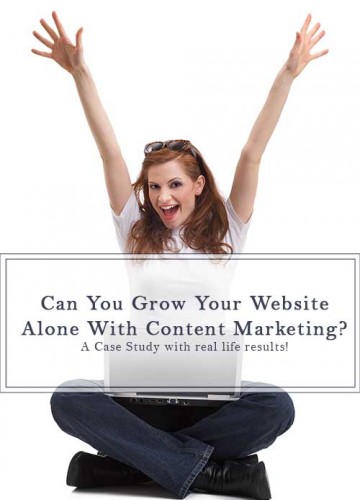 Lately I had the chance to experiment a bit with my digital scrapbooking website. I wanted to figure if, just with content alone, you could increase the amount of traffic and therefore sales on your site.
Here is the scenario:
My website www.digidesignresort.com, a pure hobby site created because of interest in the niche, had not that long ago around 30,000 monthly visitors. For a hobby site, that was a great number. But when I checked the keywords people were coming for I thought half of them must be disappointed because they came for words we could never provide content for. Therefore, I decided to optimize the posts on my blog and add the keywords to it with the Yoast for WordPress tool. With that tool you can add a keyword for each article and optimize it for. Additionally, I added a site map to the site and did some other SEO optimizations. We also had three newsletters per week. But I always felt that that was much to much: With each newsletter people got a small freebie as well as our newest products and specials. Thing is that many of them were just after the freebies. This also kept the amount of visitors coming to the site pretty high.
Several months ago I decreased the number of newsletters to two per week and also put the main keyword, digital scrapbooking, into all the blog posts, titles, etc.
Here is what happened:
The number of visitors dropped to about 13,000 something in average but, as expected, the number of people coming over from the search engines for the right keyword (right in this case means that it has something to do with digital scrapbooking) increased. The sales also didn't decrease during that time. We went ahead and hired someone to write reviews and tutorials to add to the blog on the site so we could show the search engines even more that we were providing value. This definitely increased the amount of people subscribing to our newsletter but for now it didn't increase the sales. Usually I'd expect it totally different. I would say that, if the number of new people coming to the site as well as the number of newsletter subscribers increases the amount of sales would.
Unfortunately, it didn't.
Here is what I think the reason is:
Scrapbooking is actually nothing but a hobby. People can do it but I guess although it is addicting they can live without it. I could see that the amount of different buyers increased though: people I never saw so far were purchasing but then others who already had stocked up their material didn't. So the sales were ok but since I was investing into content I wanted to get more back.
At this time I decided that it would be time to add category descriptions to the store. You know, that neglected stuff 🙂 I have the digital scrapbooking site now for five years but never thought this could be helpful. Also, I added category descriptions to the blog as well. Although I didn't write the shop descriptions myself (there were 64 to write with 300 words each) it was already a lot of work to add them all, not talking about writing them all 😉
So what now?
It will take a month or so more before I will see the real value of my investment. Right now I can see that the number of visitors coming from the search engines is increasing and that is a good sign because it diversifies the the buyers and we do not depend on some people we need to get buying again and again.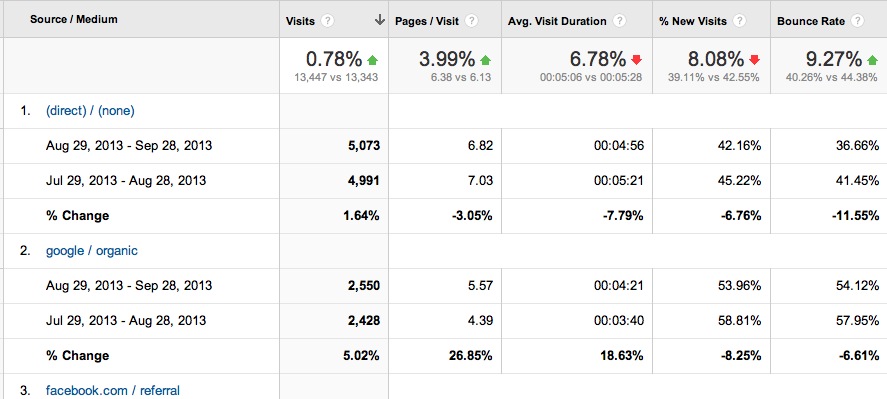 As you can see in the picture the amount of people coming from the search engines increased. It is just about 120 visitors but we shouldn't forget that I don't have to do anything else to get these people. I don't have to pay for them and they are definitely highly targeted. Maybe not all of them will immediately buy but if they subscribe the newsletter it was a good investment already. Another good sign is that the bounce rate (which is the rate that shows that people who come to the site do not visit more than one page) decreased nearly 10 percent. That is a huge success already.
So the stats are promising: It is nothing to go crazy about but you can see that with more content you can definitely still drive more traffic to your site.
However, this is not the only thing you need to do to get more money.
I wrote this first part of the post now about 2.5 months ago. And today I can show you another great spike in traffic. Here is how the website grow looks right now: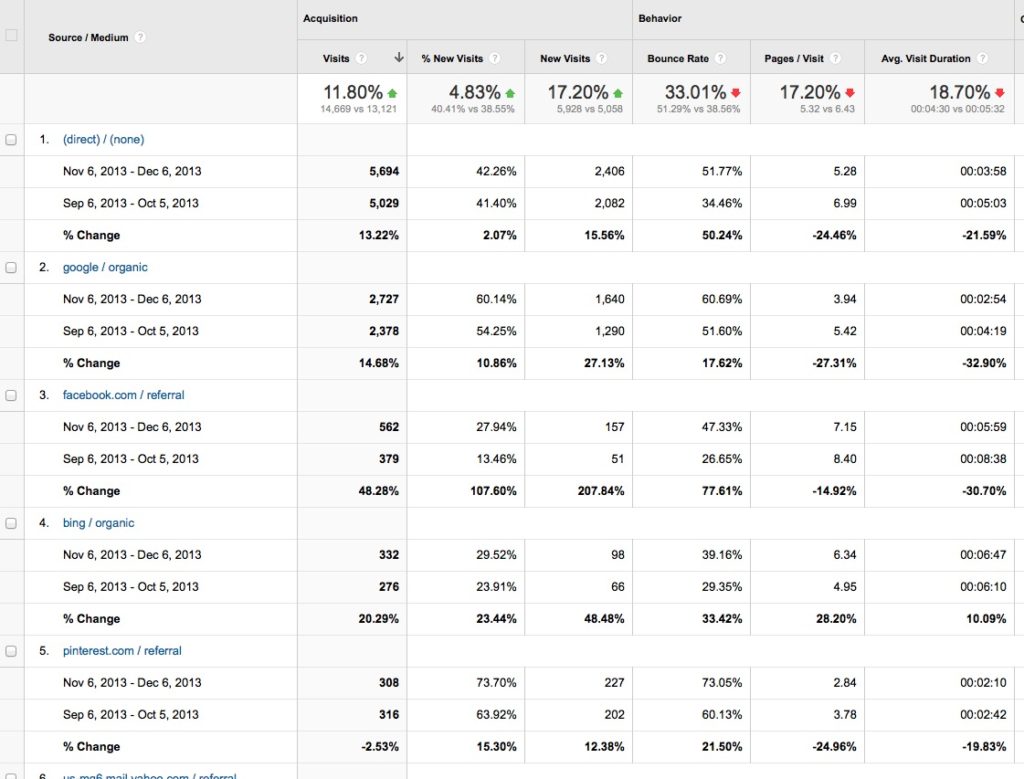 As you can see there are many more people coming now from the search engines. I didn't do anything but adding content. I've added the category descriptions but I also added content to the blog nearly daily.  You can see that it works. But at the same time you can see that the visitors are less targeted. Maybe some content is ranking for the wrong keywords? I don't know but I'd say that some people coming to the site are looking for something different or the bounce rate would have decreased.
Conclusion:
Adding content to a site will increase its visitors. BUT (and that is a big but) it shouldn't be the only thing you do. Your website isn't a lonely island. Go out, get in touch with others and try to do something else but content marketing to get attention to your brand. You can compare it with companies just adding products to a store and not promoting it. They will get sales because supermarket visitors will buy the product once in a while but they won't increase their business by just throwing out product after product (in this case blog content). However, you will increase your business, reach and your brand awareness if you are willing to put in some more work, e.g. I will keep adding valuable content for my visitors but I will also start using social media more. I already started to post more on Facebook, for example the newest content from the site. But I will also use Pinterest more because I think digital scrapbooking is a very visual niche so we might profit from that.
I'll let you know 😀
Did you enjoy this case study about website growth? If you want to learn more like that please check out the academy – we will help you to get your business out of the ground for just $1
Filed in: Internet Marketing
I'm Monja, the owner of several websites, amongst others
Digidesignresort.com
and
CMDacademy.de
. I make my money online since 2011 and as a teacher I love to teach others how to do the same - personally. You can connect with me here and on
Google +
Do you like what you read? Please Share