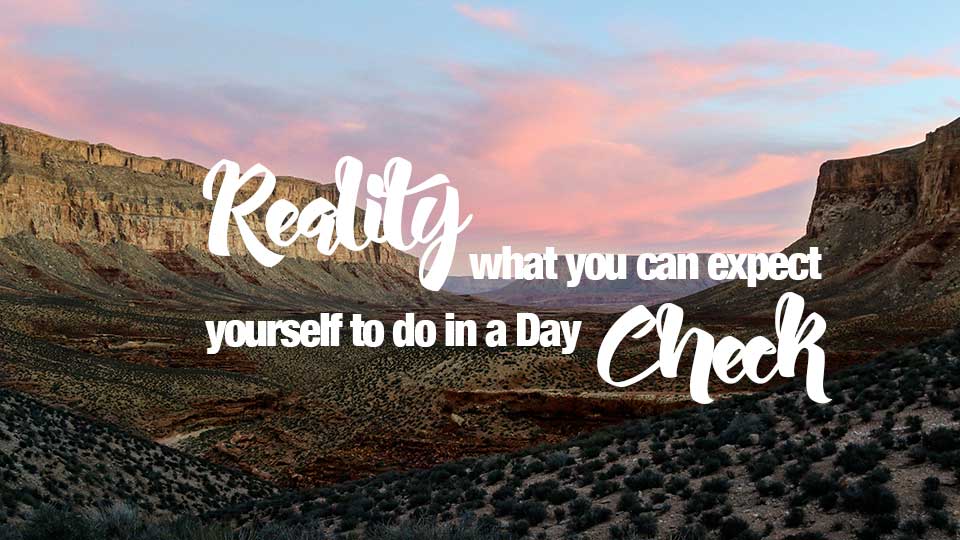 I've been kinda euphoric yesterday. I couldn't stop writing and planning and I basically wrote everything down and still thought it's not all I have in my head. Well… it might be not all. But the idea to maintain four websites equally every single day … mmm guess that will be too much. So here the reality check. Sitting in my office today and writing down all the things I would have to do today quickly showed me that it is most probably not that easy for me to get all the things done. Especially not if clients show up in the office, if the phone rings (what it should) of if I need to talk to my colleagues (which I should as well). So any distraction at all will totally throw my  list off.
So what do I do now?
Reality Check
First of all I guess I need to accept that there is a "reality shock". It is actually not possible and if it would be possible on those seldom days where nothing comes in between I might have still a hard time to follow up with everything. I just watched the video from Amy Schmittauer who just published one about how she plans her month. And I must say – it looks somehow better. I actually really like her idea that things which haven't been done in the previous month are obviously not that important. They may or may not be moved into the next month. It's all in the video but if you want to learn more about her – she wrote a pretty good book about Vlogging. You can find it here.
I love that things might be not "that important" :D. Especially after today I guess I need to prioritise. Most people would say (and I guess they are right!) that writing a single well written post in a day is already enough.
And what do I expect from myself? Doing 10 times the work! No wonder I don't have any time to do my exercise not do I have any time for my friends.
Lesson learned for you and me
It's not just important that your plan for a month or so is done it also needs to be doable. It's not a good idea to put as many things on your plate as you can. You need time to breath, to focus, to meet friends, to spend with family, and last but not least to do your housework.
So no, we cannot fill your day from morning to night, not even for a short amount of time. It's not a good idea and it will lead to a burn out – the one or other way.
For me that means: If I don't have to say anything on Facebook, I shut up. Because where is the point if I bother my fans and followers with something unimportant? Still, I won't throw everything from my list over board. It's more that I need to rework it to actually find where I focus on.
Actionable step for both of us: Re-work your list. Can you really handle everything you put on your list? If not check out the video and start prioritising.
Result for the Reality Check
To me it looks like I have a problem to figure what can be done in a day. I always see me doing that. I put so much on my plate that it is nearly impossible to get things done. And if (really if) I really get all the stuff done I'll be that tired the next days that I can hardly motivate me to do the most necessary. So that makes things actually a bit weird because in the end I haven't done more than anyone else I just will be more tired and unsatisfied from those days I couldn't get much done.
Once again I believe that I need to get a regular schedule going. The only question is: How much is enough? The main point is that my planning from yesterday is too much.
*Product links are mostly Affiliate links. While I get a small commission if you buy something there is no disadvantage to you, it's the same price.
Filed in: Blog • Blogging Tips • Coffee Break
I'm Monja, the owner of several websites, amongst others
Digidesignresort.com
and
CMDacademy.de
. I make my money online since 2011 and as a teacher I love to teach others how to do the same - personally. You can connect with me here and on
Google +
Do you like what you read? Please Share