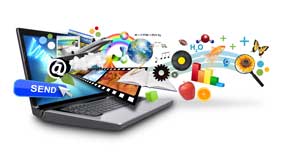 Once you have chosen a topic for your blog you'll need to figure out some technical issues such as whether or not you will host the blog on its own domain, finding and choosing a web host for your blog, and how to choose a blogging platform. These are all very important aspects that can make your blogging business easier or harder. But, don't panic, none of this is as hard as it seems at first. You had to learn to crawl before learning to walk, and the same can be said for learning about blogging and all the technical issues involved. Take one thing at a time, and you'll eventually surprise yourself and be off and running. It is not easy to start your own blog. But it is well worth to crawl through it and get it going. The reward is immense!
Choosing whether or not your blog should be its own domain or not depends on a couple factors. If you already have products and services, and want to blog about those, then you should put the blog on that business domain. You can upload WordPress to a sub domain on your original domain such as http://www.mydomain.com/blog regardless of what platform you've used to build your business website.
Don't get confused: Never consider to host your business on a free domain such as Blogspot or WordPress.com. If you do that, you are not the owner of your own business. The free platform can choose whenever they want to close your blog for whatever reason. Beside that, it doesn't look professional to have a domain with "Blogspot" included. When you ever decide to move your blog you'll lose all the links pointing to your site and all authority you might have gained. So really, saving $10 per year is not worth that you cannot control your own website.
Before you buy your own domain name your blog will be called something like, yourblog.com. Choosing a keyword rich domain name of your own can bring many benefits. Make sure your domain name describes your business well. For example, it is much better to choose the domain bestsurvivalknives.com when you have a niche site about survival knives than if you choose petersknives.com – just because you target a specific keyword with your domain bestsurvivalknives.com. If that doesn't make much sense to you, we can do this together in the Living For Mondays Academy. It's best to choose a domain name without dashes and ending in .com for best results. You can purchase domain names via your webhosts, e.g. on Bluhosts, which literally costs $5 per month, including unlimited web hosting and traffic.
I highly recommend Bluehost because there you install your website with two clicks in no time. You don't need to be tech savvy to do that, just sign up for our newsletter and you'll get some trainings videos which want you through this process in no time.
Do some research on a few different services to find out how reliable they are by checking on their "uptime" promise. Uptime should not be less than 99%! After all, this is your business. You can go with a small company like MomWebs.com which offers exceptional customer service and help especially for people who don't know what they are doing,  or you can use a big company like Bluehost.com which also has good customer service but without the extra personal touch. In other words, you definitely need to know what you're doing.
It helps to know what blogging platform you'll be using when you choose your webhost because you need to know whether or not your platform of choice will work on that particular host. Which platform you choose also depends on your skill, ability to learn, and how much time you  have to sink into learning. The best blogging platform out there for self hosting websites is, bar none, WordPress. You can learn all about WordPress in the Living For Mondays Academy – step by step, no compromise here, you'll have your own site once you have watched our videos.
Filed in: Blog • Blogging Tips
Tagged with: platform • start your own blog • web hosting
I'm Monja, the owner of several websites, amongst others
Digidesignresort.com
and
CMDacademy.de
. I make my money online since 2011 and as a teacher I love to teach others how to do the same - personally. You can connect with me here and on
Google +
Do you like what you read? Please Share