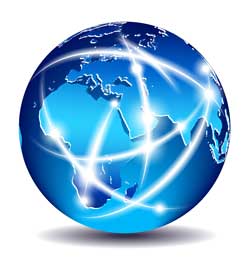 If you own a "brick-and-mortar" local business, you probably have already heard that you need to go online and create your own website. You probably brushed it off the first dozen times you've heard it but recently, it is beginning to sound like a constant drumbeat. Moreover, you're probably getting concerned because a lot of your competitors have started popping up online. You begin to get this growing feeling that you are getting left behind. Whatever your situation may be, now is the time to get your business online. The good news is that it doesn't have to be expensive. It doesn't even have to be complicated. Use this guide to quickly get your own website to get your business online.
1. Use WordPress
WordPress is a blogging platform that helps you put up a blog very quickly. You are probably thinking that you are not putting up a blog but a business website. It doesn't matter. It is so powerful that even if you are putting up a static business website, you can still use that platform to put up your site quickly. The great news is that if you decide to change information on your website, you can do it with a few keystrokes and clicks of your mouse. That is the beauty of it. Moreover, the WordPress software is completely free. The only thing you need is a domain and web hosting.
2. Invest in reliable hosting
Thanks to market competition, the price of putting up your website online and keeping it there. In other words, the price of hosting has dropped like a rock in recent years and is still continuing to drop. There are many great hosting providers online that can give you the reliable service that you are looking for. Just find the right host that meets your budget. Some can host your website for few dollars every month, like on Bluehost. The great thing about Bluehost is, that domain, unlimited webspace and unlimited bandwidth are already included.
3. Pick a host that has easy WordPress installation
Some hosts have WordPress installations so that when you click a button, you can easily put a WordPress blog up. Pick one of these hosts to minimize headache and hassle putting up your website. That is what Bluehost offers. You have installed your website with a click of a button. And when you sign up for our newsletter, you get a video where I show you exactly that. Go here to sign up now (it's free, of course)
4. Get a WordPress theme and customize it.
Although there are many free themes available online, the truth is, that it is much better to invest into a premium theme. There are several advantages to that. First of all, a theme, which is no longer updated by its developer, can open holes for hackers.Beside that, a theme that is optimized for SEO will help you with your search engine rankings. There are two themes out there, which are really the number one – it doesn't matter what you choose, both themes are perfect for SEO purposes and also for easy customization. I'm talking about the Thesis Theme and the Studiopress Theme Genesis with the Lifestyle Childtheme. Genesis is available with lots and lots of Childthemes and you can purchase a different design later and still use Genesis as a solid framework. Just to be 100% clear: You just need to buy a theme once and then you can use it on all your projects over and over again without any further payment. So if you decide to use Thesis or Genesis again and again, that is fine as well.
Whatever you decide to do, please keep in mind that it is really cheap to create your own website. Compare it to what a brick-and-mortar store costs before you have even opened the doors and you'll quickly see the advantages. Spending a few bucks on a website may be your best investment ever because it can help you tremendously with your business.
Start now and get your web hosting here
Filed in: Blog • Blogging Tips
Tagged with: online business • own website • set up online business • web hosting
I'm Monja, the owner of several websites, amongst others
Digidesignresort.com
and
CMDacademy.de
. I make my money online since 2011 and as a teacher I love to teach others how to do the same - personally. You can connect with me here and on
Google +
Do you like what you read? Please Share