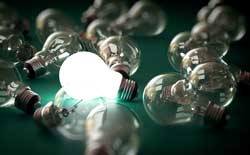 The Internet used to be such an exotic platform. It used to be such a curiosity. Now that everybody is beginning to figure out, it has become a necessity. If you have a business, you have to put it online. If you don't do it, your competition will. Businesses that used to be absent on the internet are now on it. The internet really is a place where consumers can get information about products or services that they need offline. They go online as their starting point to get information on what they need to buy. This is a very powerful marketing opportunity if you do it right. That is why your competition is probably online already trying to steer the mind share of the people looking for a particular product or service you are offering. You have to beat them by putting your business online as soon as possible. Putting a business online is very different from creating an online business. For example, if you offer carpentry services to a local area, you can probably do okay with just putting the basic information about your business online so that people in your local area looking for services can see that you offer that. That is fine. However, if you want to truly create an online business, you need to follow these simple steps. It is one thing to put up an online business card while it is another to actually conduct business online.
1. Quality content
If you want to create a successful online business, you have to snag your customers with quality content. People buy from people they trust. If you don't prove that you are credible and an authority in the field of services that you offer, people will not buy from you. It really is that simple. So you have to use quality content. A lot of the times, this content is already there. Your customers are already asking you all sorts of questions, just put them online in article format. You can be creative though. You can record a video or podcast (of course it depends on your services or products) or you can add a slideshow. All people are different, anyone enjoys content different so it is good to address that.
2. Payment processing
You really don't have an online business if your website is just an online business card that tells people, "This is what I'm about. Go check me out by going to my physical location." You basically just have an offline business with an online presence. If you want to do business online, you have to able to take payments online. This is fairly straightforward with services like Paypal, Xoom and other online payment processing platforms. That shouldn't be a problem. All it takes is just a few lines of code, and you can take payments online.
Here are the simple steps involved to set up your business online:
Get web hosting at Bluehost (it already has your domain name and unlimited web space and bandwidth included). Beside that they have an awesome service and guide you through everything if necessary. But you can also do it yourself with our videos, just sign up for the newsletter and you get a complete step by step guide here.
Install your blog and add a premium WordPress Theme to do it right from the beginning. I highly recommend Thesis, Genesis or Solostream (what we use here at LFM).
Set up an online store or solo product with the help of Paypal or a similar payment processor, really, it's that simple.
3. Social media presence
It is one thing to be able to take payments online and another to have a lot of content. Your online business is not going to get anywhere if you are not socially connected. People are social online. You need to get connected. That is why you need to have a presence in Facebook, Twitter, Pinterest, Instagram and other social media sites. It is really important that your business become social because people promote things through their social networks.
If you follow these steps, you can't fail. Let me know if you have any questions. I know this is just a basic guide. You'll find a VERY detailed multimedia course in the LFM Academy.
Filed in: Blog • Internet Marketing
Tagged with: build an online business • online business
I'm Monja, the owner of several websites, amongst others
Digidesignresort.com
and
CMDacademy.de
. I make my money online since 2011 and as a teacher I love to teach others how to do the same - personally. You can connect with me here and on
Google +
Do you like what you read? Please Share