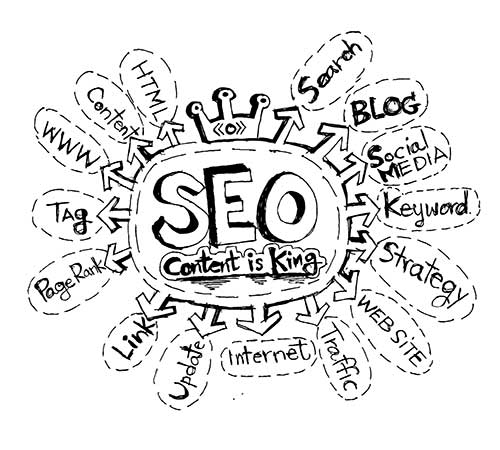 If WordPress is configured correctly it is one of the most powerful blogging platforms for getting ranked in search engines. Unfortunately, out of the box WordPress is actually quite poorly configured so you wether have to use a well-configured Theme such as Thesis or the Genesis Framework or you have to get your hands dirty yourself:
Here are some of the best SEO tips to implement for your WordPress blog
1. Change the Title Structure
By default, WordPress places your blog title first, then the blog post. For example, if your blog's name is "Charly's Blog" and your blog title is "How to Learn Spanish," WordPress would display:
Charly's Blog | How to Learn Spanish
In reality, you want it the other way around:
How to Learn Spanish | Charly's Blog
That will give you better rankings for your individual blog posts because your keywords is placed before the blog's name.
2. Change to a better permalink structure
By default, WordPress uses a numeric system for creating permalinks. Your posts will be labeled like this: www.example.com/?=24 for example. It is much better for your rankings and your visitor's eyes to change the link structure to something more readable including your keyword, e.g. example.com/best-prices-on-widgets/. For that, just go to Settings/Permalinks in your WordPress Dashboard and click on "Post name" as your permalink structure. Here at Living for Mondays.com and also on my other sites I do that different, I add a number to the posts. This makes it much easier to share when I am e.g. in a Webinar or Podcast and want to give my listeners a specific link. A link then looks like this: www.example.com/1234/keyword-name. But even if you just type in www.example.com/1234/ you are forwarded to that specific post. Just choose "custom structure" in your WordPress menu and then add /%post_id%/%postname%/ there.
3. Internal Linking and Categories
It's best to link related articles to one another within posts on similar topics. This will pass relevant link juice between your own blog pages. It also will give your visitors a good reason to dig deeper into your site. Categories can help a lot with internal linking. Make sure you have well-named categories and place each blog post into the specific category they belong in. Additionally, you can add descriptions to each category describing the keyword you gave the whole category.
That will make it easy for search engines to tell what each category is about and see that you have a lot of relevant content in that category. The slug you give your category is included in the link structure and will also improve your search engine rankings. You can find that option under Posts/Categories.
4. Add Caching to Increase Speed
One often overlooked SEO factor is the page load times. Search engines place a high importance on loading times because a fast loading site is convenient for your visitors. To decrease your load times, install a caching plug-in like W3 Total Cache. Just go to Plugins/add new on your WordPress Dashboard and search for W3 Total Cache.
5. Tag your Images
Tag the alt tags in all your non-navigational images. You can do that when you insert an image into your blog post, click on top right when you hover over it on the little "image" and then edit the settings: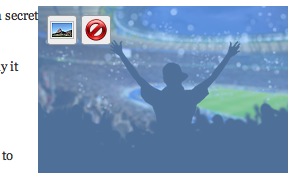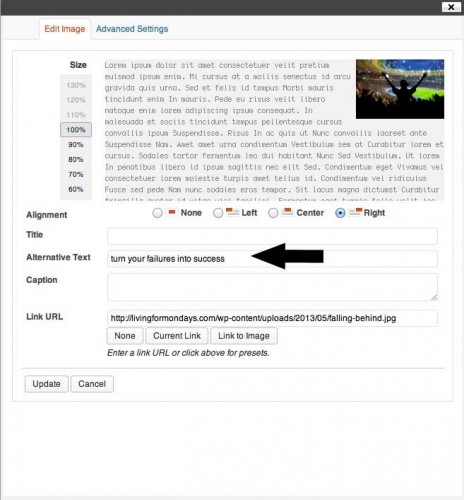 6. Use a Sitemap Plug-In
A sitemap makes it easy for search engines to find all the pages on your site. Yes, search engines can find it without a sitemap, but by decreasing the computing power it takes for a spider to spider your site, you'll win a few extra points in the search engine's eyes.
The easiest way to set up and maintain a sitemap for WordPress is to simply install a plug-in that will automatically set up and update the sitemap for you.
A Few Last Words
The
All In One SEO plug-in
is a free plug-in used by many in the WordPress community. It makes it easy to change your title structures, permalink structures and a lot more.
Preventing blog comment spam is also an important part of ranking. The best way to do that is to use the
Akismet plug-in
, also free, written by the founder of WordPress.
Whatever you do to optimize your site, make sure it serves your visitors. It is good to stand well in the search engines but in the end, the only thing that counts are the people coming to your site, reading your content and buying what you offer. No search engine will ever do that for you.
Need more tips?
Filed in: Blog • Blogger Tools For Online Business
Tagged with: seo
I'm Monja, the owner of several websites, amongst others
Digidesignresort.com
and
CMDacademy.de
. I make my money online since 2011 and as a teacher I love to teach others how to do the same - personally. You can connect with me here and on
Google +
Do you like what you read? Please Share