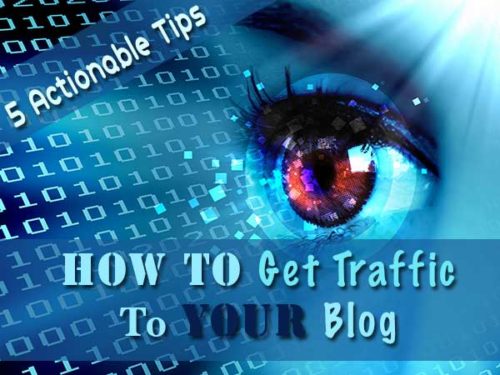 Oftentimes, people use broad terms as they give suggestions or explain ways to help you get more blog traffic. For instance, you may come across people saying "participate actively on social media" or "takes step to partner with other popular blogs". But do you think a common man can understand what this statement means? Definitely, most won't understand it. 
If you are planning to launch a fresh blog, you may find it hard and frustrating to follow the suggestions practically and get more blog traffic. You may end up with little success if you fail in implementing the tips properly. So, how can you get more traffic to your blog? Do you need clear, step-by-step and actionable advice as to what to do?
In this guide, I'm going to give you 5 tips to help you attract more and more visitors to your blog. As a matter of fact, these tips may work for everyone out there. The lower given tips, if followed properly, can help you get hundreds of thousands of page views in just a couple of months. Can't believe it? It's practical. Read on to find out more.
In this article I focus on social media methods – they are free for anyone to use so I think if you just starting out this is the best thing to do.
1. Pinterest Group Boards
There should be images on your blog, as these are very important. Basically, images are visual descriptions of the written content on your blog. If you run a business, for example, you may want to put the images of your products on your blog in an attempt to create hype around your blog and get the word out as much as possible. One image is equal to one thousand words. Images speak! So we need to make them stand out.
When it comes to getting traffic on a blog, Pinterest offers a great opportunity. However, often, getting followers on Pinterest becomes a hard nut to crack. As everything in social media it is a question of participating actively and enjoying the process. Otherwise you won't get good results.
What are Pinterest Group Boards?
Group Boards on Pinterest are created by single users on a special topic. These users invite others to pin onto the board as well. Especially if a person has a huge following this can be VERY interesting. Top-Pinners have 500.000+ followers and if you are on their group board you can easily reach a huge amount of people with your pin.
But how do you find Pinterest Group Boards?
If you search "Pinterest Group Boards + your niche" on Google, you will find a couple of Group Boards relevant to your niche or blog. The Group Boards can be used for sharing blog posts with a target demographic, instead of starting from scratch with a Group board on a new blog. Most of Group Boards already have a lot of followers, so you can use these followers to generate interest.
Normally, you can find the email address of the owner on the page description. You should contact them to ask if you can join their board. As an alternative, you may drop a comment on any of the pints with a request to join the Group. But be careful with that, it may look spammy.
Steps
Go to the Google search engine and type in "Group Pinterest Boards"; alternatively you can browse http://www.pinterest.com/pingroupboard/
Hit Ctrl+F and make a search for keywords relevant to your blog or niche
Get in touch with owners of the Group board for requesting to contribute
Now, share your unique content with the group community
Pros
Easy to implement and takes less time
You can easily find audience that fits in your niche.
Cons
Others may drown out your pints in case the Group board is active.
Another choice
Create your own Group Board and invite others to make contributions
2. Automate Your Social Network Sharing
A common problem people often face is the amount of time it consumed by the process of uploading an image, creating a title and sharing the posts on the social media sites you have accounts with.
In order to make this processor less time-consuming, you can try out a free of charge WordPress add-on named NextScripts Social Network Auto Poster. The moment you upload a post through WordPress, the public will automatically share that image with the social media sites you connect with it.
This tool can be used to publish well-formatted messages or posts to your google+, Twitter, Facebook, LiveJournal, Blogger, Delicious, Stumbleupon, Digo, Pinterest, Linkedln and other accounts. It even allows you to customize the description, the title, the links to your own page. It also lets you set the time to share on the social media accounts your own. The best part is that the add-on comes with no annoying messages and the posts will be white-labeled coming straight from your account.
Another tip: If you want to share your posts with Pinterest Group Boards, you can again use the Nextscripts. However, you will have to buy the Pro account if you want to use this feature.
Steps
Browse Nextscrips and then follow the instructions on this page.
Now, customize the way you want to share your posts with the plug-in. Decide on if you want to use a Title, Image, Tagline or URL.
Pros
Saves time and gets as much social reach as possible using your posts
Requires little upkeep once installed properly
Offers additional options for setting delayed postings
Cons
You have to buy a Pro account to post to Google+ and Pinterest
Less personal compared to unique posts
 Alternatives
3. Make Profiles on different "Sharing websites" and Share your Content
Lots of traffic can be received from other "sharing or product websites". These websites are like Pinterest. All you need to do is to create profiles on these sites, add a URL, and share your content. Alternatively, you can use these websites as a good place for doing research and getting inspiration. It is time consuming first because you  need to set up all these profiles. But once done, you can quickly (more or less) share your content. You get others to see it and, beside that, you also get some backlinks pointing to your post.
Some of those sites include Svpply, Gentlemint, Tapiture, Allmyfaves, The Fancy, Springpad, Manteresting, Punchpin, Storemate, Stasham, Aanelo, WeHeart, Lyst, Polyvore, Sumally, Nuji, Gimmear and so on. For more such sites, you can type in your niche in Google search engine and hit enter.
Steps
Open one of the sites mentioned above.
Sign up with the site. Don't forget to add your URL, logo, and description.
Set up a Bookmarklet. The good news is that most of the websites offer a bookmarklet; it can be used to drag up to the Firefox or Chrome bookmark bar for easing sharing the posts. You can keep all of yours in the same bookmark folder.
Scan through all of your posts and hit on that bookmarklet for sharing it.
 Pros
Lets you share your posts with a broad audience.
Gives you a chance to put your URL/logo/brand on the profile and give an in-bound link.
Cons
Most of these websites are fashion or product focused.
These sites require you to stay active if you want to build a large audience.
Some websites require additional information, such as color/price or categories that can be annoying.
Alternatives
Alternatively, you can use websites, such as Task Rabbit, AirTasker, and Fiverr. You may hire someone to share your posts or creations on these forums and networks relevant to your niche. If you have got a spare PDF, Keynote or PDF slide deck, you can upload it on Slideshare in order to get a couple of links back for your target website.
4. Share your Competitions with other Comp Aggregators
If you choose to set up a competition page on your blog, I recommend that you share it on social media sites. Aside from this, you should also share it with a large community through Competition Aggregators websites. This way you can get lots of traffic on your blog. Many people have tried this and they successfully get plenty of useful traffic to their blogs. So, you should give this a try.
Lots of such websites are out there where you can easily submit completion and add a backlink to your website.
Steps
Create the completion page; make sure you create a Terms and Conditions page as well. For inspiration, you can visit other similar websites.
All you have to do is to go to Google.com and type in "online competitions".
Once you get a list of completion sites, you can then shortlist websites where you can sign up.
On these sites, you should share the URL of your competition page; just make sure that you include description and link to your Terms and Conditions page.
And don't forget to tweet a link to the page and the blog.
Pros
If you do a competition properly, you can attract a large number of visitors to your website. They will share comments on your website and discuss with each other.
Aside from this, you will get requests from many brands to promote their products on your blog.
Cons
Some states may have different lows or regulations regarding running competitions.
5. Submit the URL of your blog to Blog Directories and Startup Review websites
If you run a blog part-time, this does not mean you cannot call yourself a businessman. You can consider blogging a business. Many people are not sure about how to make a start and promote their blog aside from sharing its link with their friends and family. You can promote your blog e.g. on Man of Many and other fashion websites and blogs, but it proves hard to partner with them. This is because you have a small number of followers at initial stages.
Steps
First, you will have to find reliable directories. Aside from blog and article text, you will also have to put other information in a word document, such as Company Name, Website, Address and so on and so forth. You will also make a brief description, a long description and finally answers to some questions, such as who is your best customer? At first, you will have to spend plenty of time to do it, but copying it over is a lot easier. After the creation of description and other content, you will simply copy the text to different sites and blogs.
Get an image file ready. It should contain author profile photos, screenshots and logs. Once you prepare the file, you should keep it updated.
If you are on the lookout of websites to submit your blog, visit this site. On this blog, you can find a number of such sites. It will save you plenty of time.
Sign up with the websites. Your next steps should be to copy of the information into your profile.
Once you have shared your content to a couple of websites, you may want to tweet about it on Twitter and share it on your Facebook fan page as well.
 Pros
This method gives you a chance to market your URL/logo/brand and get lots of in-bound links.
Cons
Most of the Directory or Startup websites tend to be technology focused.
Going through the list can absorb lots of time.
Your submission won't be accepted by all the websites.
Some websites will charge for submitting articles (find others instead).
Alternatives
Many firms can do directory submission and SEO for you. You can hire their services, but you will know that most of them are quite expensive.
For instance, Traffic Geyser offers website submission services. They automatically submit your post to tons of different sites. However, as always, you need to set up your profiles first. This is time consuming but you can also let them do it for you 🙂
Conclusion
One big is that if you want the above tips to work for you, then you should always produce and submit high quality, exciting, appealing and information content for your readers. When it comes to blogging, Content is King; there is no use of sharing content with your loyal visitors unless it is really helpful. You will lose your readers fast if you offer poorly written, repetitive or uninformative content. You should form it a habit to share something valuable and actionable. If you follow these tips, you will soon see your blog getting more traffic. You will see lots of comments on your blog posts. And of course, at that stage, you will be able to make lots of money with it.
The problem is "just" to stick to it until it does.
Good luck and enjoy the process! 
Filed in: Blog • Social Media Marketing
Tagged with: blog traffic
I'm Monja, the owner of several websites, amongst others
Digidesignresort.com
and
CMDacademy.de
. I make my money online since 2011 and as a teacher I love to teach others how to do the same - personally. You can connect with me here and on
Google +
Do you like what you read? Please Share