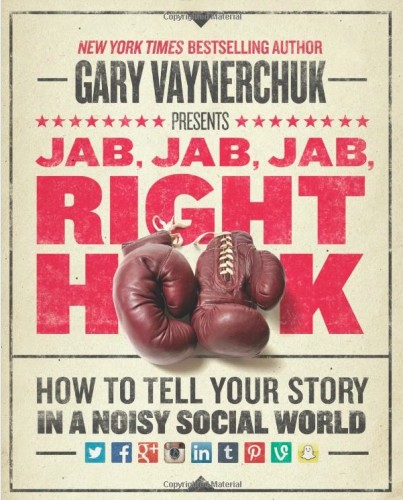 If you think this is a strange title for an article, you might find that this is even a more strange name for an entire book 😉 But it is and that book has been written by Gary Vaynerchuk. Yes, that famous Internet Marketer who also wrote Crush it! and who keeps telling us to change the way we market.
I first thought that all this is a bit "too much" – not every company wants to do Social Media Marketing on all channels. Some just use Google Adwords and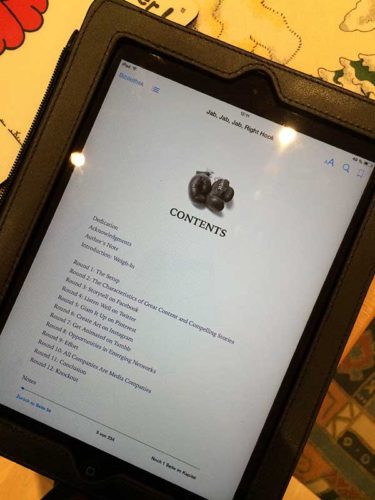 good – and they are still in business. But I guess I've been totally wrong. After reading the book I feel like an idiot because I haven't used social media well enough for much too long. I've more or less ignored the value of it: I've been there, pinned a pin on Pinterest, left a message on Facebook or posted a video on YouTube. But, to be honest, I haven't used any of these as I should.
I got myself Jab, Jab, Jab Right Hook for Christmas (actually my hubby gave me an iTunes card and I got it ;-)).  And while I had some problems reading it first (after all, English is not my native language and eBook version does not have many paragraphs on the single pages) I couldn't stop the further I got in the book.
The conclusion is that we all still market our books since we did in 2000 (or a bit later). We still grab our message and throw it on all social media channels we own and then we wonder why nobody is reading them or even want to read them. Or, if we get some re-pins on Pinterest we wonder why, with all the attention there, we do not get any sales on our website. So actually what we have to do in 2014 and definitely in the next years is to talk on the social media channels in the language people use on that specific platform.
And that is actually what Gary says in his book – in a lot more details of course and with a lot of samples.
Have a quick look at this Powerpoint Presentation – it is truly entertaining and eye-opening. And I'm pretty sure that you can already see the value of this book. I don't want to tell you have to read it but you definitely should if you think about social media marketing or simply have to get more business to your website.
Filed in: Blog • Blogger Tools For Online Business
Tagged with: jab • right hook • social media marketing
I'm Monja, the owner of several websites, amongst others
Digidesignresort.com
and
CMDacademy.de
. I make my money online since 2011 and as a teacher I love to teach others how to do the same - personally. You can connect with me here and on
Google +
Do you like what you read? Please Share