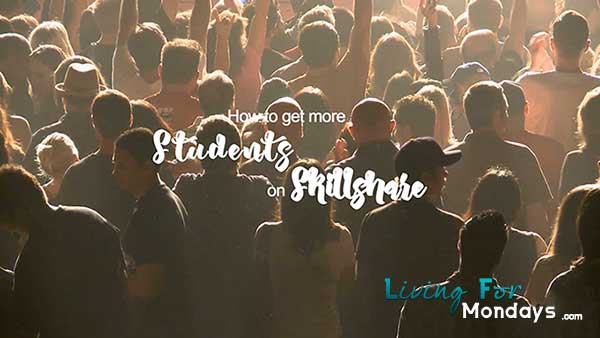 I've just joined a hot discussion in the Skillshare Mastermind Group by Neal Shearing. I enjoy being member of the group because it is a really helpful and supportive one and Neil really does all he can to help us as Skillshare Teachers.
What came up was the question what we can specifically do to promote our courses. I really would love to put a list together. To be honest I'm sick of these "make a YouTube Channel" and "comment in forums" answers. I mean, yes, it might be true. You can gain students by being helpful on forums, in Facebook Groups and also with your YouTube Channel. But to do all that we need time. And I mean a lot of time.
If I want to create a helpful video per day which expands my courses needs, comment in a forum, do a guest post and answer also on Facebook Groups, I'll have a lot to do. But then Gary, one of the members at the Skillshare Mastermind Group, changed my focus. What if I'd really just focus on marketing my product after I have it ready? If I'd just promote my course? If my goal would be to sell e.g. 1200 courses per year, which are 100 per month and 25 per week. I mean, 25 per week seem to be doable if I have 40 hours. And if each of them would be worth 100$ or even just 50$, I'd make a living from it.
So why not focus just on marketing?
I mean his plan is totally doable. I never thought like that. I always thought I'd need to create course after course and one day I might have enough students and courses to finally sell enough to justify that I just do courses all day.
Maybe we can all be at that point once we have created one great product. It doesn't matter if you have created a course, a movie, music, whatever – if you spend your time promoting that product and not just doing more and more products, well, you might be on your road for success.
I put a course together to help others exactly with that question, about how to promote their course.
I have focused on Skillshare and how to promote a course there, how to get more students and therefore premium enrolments. And with any premium enrolment you'll get money rolling in. You can apply what I put together to other platforms as well.
You can find the course here and the best is, that you can see that one, all my other courses and 1000s of other teachers for just 99 Cents for 3 months (with my link). You can't be wrong with that.
I'm Monja, the owner of several websites, amongst others
Digidesignresort.com
and
CMDacademy.de
. I make my money online since 2011 and as a teacher I love to teach others how to do the same - personally. You can connect with me here and on
Google +
Do you like what you read? Please Share