When most people hear the word 'blog,' they often think about blocks of text with a few pictures here and there. Some technically savvy people immediately think of RSS. Others think about marketing capabilities. While blogs do have all these features, these features alone keep blogs static and, sadly, dated. Sure, you can write a lot of engaging and even emotionally riveting content, but if you stick to the standard format, your blog will remain one of many. The cold hard truth is that, even though the vast majority of blogs that are started fizzle out after a few months, there are just way too many blogs on the Internet fighting over Internet users' attention. If you want to stand out, you need to offer something better than the block of text.
Lately I couldn't get around Infographics. When I surf on Pinterest (as a woman I really love Pinterest ;-)) I always stumble over Infographics which summarize a huge topic and underline the message with the one or other picture.
If you don't know what I'm talking about, here is one about ranking YouTube videos. After writing my How-To guide to rank YouTube videos I've hired a guy from Odesk to turn it into an Infographic. It looks like an Infographic catches the users attention no matter what channel (Pinterest, Facebook, etc.) you use to deliver it. After all, I'm the same. When I find a nice looking Infographic I usually increase the picture to have a deeper look at it. Beside that, I often store and bookmark these Infographics because they summarize information I might need later in an easy way.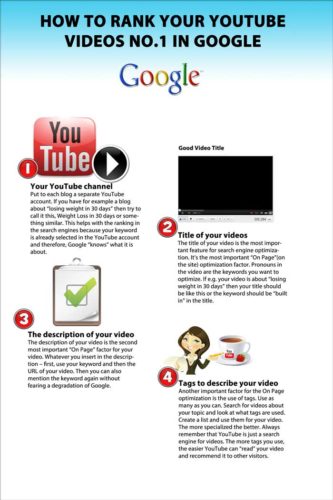 A picture is worth a thousand words
A targeted graphic can deliver your message powerfully, intensely, and with precision. I am not talking about a mere picture. If I would have to define what Infographics are, I'd say they are pictures that highlight ideas. You see, ideas have to be presented just right so the picture inside your head becomes the picture inside the heads of people reading your blog. This is the power of an infographic – it cuts through the noise. Sure, pictures may be worth a thousand words but an Infographic focuses those words and delivers the ideas they convey with pinpoint accuracy.
Easier to understand posts are easier to share
Infographics sum up the details of your blog post in one easy to share and compact package. This is a key tool your blog needs to reach other markets and other demographics. Infographics allow you to boil down your content branding strategy into one unit and you can then share this on Facebook, Twitter, Pinterest, and other sites. Infographics are able to slip through the filters of social networks since interested viewers share the Infographic and/or store them for later use.
Leverage graphic impact
Graphics convey an emotional impact. There's lots of drama, gravitas, and emotional control possible with infographics. They let you set the tone regarding a topic. They let you orchestrate or modify user reactions to certain ideas. This is why they are so powerful. Once we unleash the power of Infographics on our blogs today we can take our online brand to the next level.
Liked this tip about traffic generation? Join the Living For Mondays Academy to learn more – step by step.
Filed in: Blog • Traffic Generation
Tagged with: infographics • Traffic Generation
I'm Monja, the owner of several websites, amongst others
Digidesignresort.com
and
CMDacademy.de
. I make my money online since 2011 and as a teacher I love to teach others how to do the same - personally. You can connect with me here and on
Google +
Do you like what you read? Please Share