There are so many ways to make money blogging but the thing is that we need to stick with one and get it out of the ground. Writing a book is definitely not an easy thing but totally doable. If you have a topic and outline it you can write a 50-60 page book relatively quickly. However, after we have added our book to Amazon we still need to promote it. If not, it just gets lost in the crowd. I've added the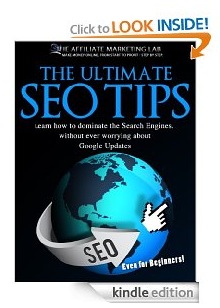 as an Amazon Kindle book last year and haven't sold much because I didn't do a lot for its promotion. So whatever you do, keep in mind that our work hasn't ended once we have added the book to the store.
The Kindle E-book market is still hot although there are tons of Kindle books available already. It is exploding. Amazon.com is one of the biggest websites in the world. It gets a lot of traffic. So if you get your product in front of those millions of eyeballs, you can see that this can generate a lot of money for you. Another reason why the Kindle E-book market is so popular is that it is fairly easy to get into. Unlike a printed book which requires you to jump through many different hurdles and spend quite a bit of money to publish your book, digital publishing is much, much cheaper. How cheap? We are talking about your time. In fact, if you just spend time and not spend a dime, you can be a kindle author. No joke. All you need to do is spend time writing your kindle book, then you convert it to a PDF in Word and upload it to Amazon. You also need a cover image but you can get one for $5 on Fiverr. I highly recommend though to go the extra mile and invest quiet a bit in formatting and layout if you can't do it on your own because that is, in the end, what makes your book stands out of the crowd.
The dangers of Kindel publishing
Now of course, it's not as easy some people think. It's not like you copy other people's work and then publish it as a Kindle E-book. This is going to get you banned and you might land in legal hot water. Don't do that. There are many cases in the past of people using PLR material and publishing it as an E-book. Amazon is on to that trick. I recommend not to use PLR because it will not only cause a lot of headaches but can get you fined. It takes time to write a great book. You have to remember that Kindle E-book market is a market for books. So you have to put in a lot of time writing the right book.
Before you jump to your Word program and start writing, please do a research on Amazon first. As for every product, you need to check out what is hot. If you already have a topic in mind, I recommend to still check Amazon and maybe also Market Samurai (for Keyword research) if there is a demand for your book. As for a niche site or any other product you want to create, see if your product is wanted before you start. Although it's a pain, I know, I don't like keyword research that much myself, it is well-spent time because otherwise you will have a product nobody wants.
Kindle revolutionized publishing
With that said, the Kindle E-book market is hot because it covers so many niches and categories. Traditional books go through a lot of publication and editing processes. That's why there's a fixed number of books that are published every year. Kindle E-book explodes that because people just need to decide on a topic, put in the time to write, and they have a book. Nice and simple because of this streamline production process, online publishing has really exploded the number of book offerings on Amazon. This is good news for you and the readers of these books. You can create Kindle E-books on a wide range of niches from personal testimonials, personal stories, self-improvement, friction, make-money online, financial advice and every topic under the sun as long as it does not harm other people, you can do it. This is what makes the Kindle E-book so exciting and hot because the only limit to it is your imagination. But I cannot stress enough the importance for quality. Don't spoil a good thing by filling with garbage. There are way too many people writing Kindle E-books that people don't really want to read because the writers themselves wouldn't want to read their product. They are just cranking out products. Don't make it a numbers game but instead a quality game. Put in the time and effort to produce high-quality Kindle e-books and you will be rewarded.
Also, don't think you'll earn tons of money with just one book. It is much better to plan a series of books ahead, build a loyal readership and let them know once you have published a new book. Steve Scott has recently stepped into this niche. I've been following his blog for quiet some time when he decided to spend the time writing blog posts into time writing eBooks. When I asked him he said that his eBooks could become a good 6-figure income stream. But he admits, that it took off from the beginning because
he already had a readership on the blog he could give the book for free (for some days) and asked for a review, reviews are a GREAT currency on Amazon to get high in the searches

he has several books, promotes them and cross-sells
he has an author page on Amazon
he researches his topic (check out this book where he talks about what he does to promote his Kindle Books)
You can see there are a lot of things you have to consider when you write a book. It is a lot of work – no question – but then, well worth if you are willing to present yourself as an author and invest the necessary time into it.
Build your own website and start your new career as an author
Filed in: Blog • Blogging Tips
Tagged with: kindle publishing • make money blogging
I'm Monja, the owner of several websites, amongst others
Digidesignresort.com
and
CMDacademy.de
. I make my money online since 2011 and as a teacher I love to teach others how to do the same - personally. You can connect with me here and on
Google +
Do you like what you read? Please Share