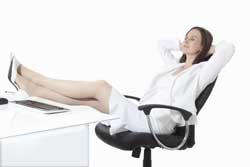 If you like creating content you can make money online. Period. The need of content is one of the basic things on the Internet which will last forever. After all, that is what the Internet is about: content. So it is a basic need of every website owner. If you like writing you are already on the street of success. Here are some ideas how you can make money writing:
Your own PLR Site – Creating Content one Time
You can make money creating content in one of two ways. First, you can sell the content you create directly so that you are a publisher, and you are making money many times for the same content that you create. The most basic example of this is a PLR site. You write the content once; people buy it repeatedly. Every time they buy it, your cost decreases and your profit increases. Why? The first batch of sales goes to cover the cost of your time, effort and money in creating the content in the first place. But after you've reached a certain point, it is all profit. The upside to this strategy is that you make a lot of money over the years. The downside is that there many other people doing the same thing and you also get tarnished that there are many low quality PLR websites out there. What they would do is that they would use software to create content and pass it off. The people who buy that junk will then think that all PLR websites use the same tactics. Similarly, many use low quality writers who have no clue regarding the subject matter and who get paid peanuts. The PLR owner then turns around and tries to sell this to the public. Regardless, all these nasty activities serve to erode the PLR brand online. So you have to confront that reality when you set up your own PLR site and try to sell your product.
However, if you write or purchase high quality articles and get known in the market place you don't need to worry much about what others think about PLR in general. Fact is, if you are doing a good job and you should because it is your brand, you can sell your content because there will always be a need for high quality writing.
A great alternative to this is to publish kindle books. This takes a little bit more effort and research but the payoff and the model is the same. You work once but you make money several times over. The same works with e-books and e-guides. The same basic model applies. You research, publish and sell. This is very straightforward.
Writer for Hire – Creating Content for Others
The second way you can make money creating content is to sell your services as an online writer. Thanks to websites like Odesk, Fiverr, Freelancer.com, as well as online forums, platforms and service exchanges where you can advertise your services and people would contact you to retain your services. The upside to this is that you get paid just to write. If you love to write, this is a great way to go about in fulfilling that need. The downside to paid writing is the race to the bottom. As more and more people get in on the online writing game, the price and quality tends to go down. There are many writers who are not native English speakers who produce horrible materials and tend to degrade the overall quality curve. Still, there is always a place for good writers. You just need to develop your own clientele who trust your competency level, and you just need to "under-promise" and "over-deliver." If you do this, you will be assured of a steady base of clients over and over again. It all boils down to quality content.
Write for your own Blog
This is not an option for you if you need money quickly. If you want to build up a business that lasts forever and gets more or less passive over time writing for your own website is definitely your best alternative. Once you have a blog up and running it is all about content. So if you like writing a lot about the topic of your choice, this is your option. Write as much as you can think of. The more content, the better. Sooner or later this will pay off because the more content you have, the more often you are found in the search engines and the more visitors you get. If you include Affiliate links on your pages or even Google Adsense (or whatever your monetization strategy is) you will make money. This won't be a lot at the beginning but with time you can make a living from your writing.
Your own Products
Of course you can and should also create your own products. Write reports, guides, eBooks – you can sell all that and more on your website or on Amazon, the Warriorforum or wherever you find a place to sell.
At the Living For Mondays Academy we help you find ways to create and sell your own products, join now!
Filed in: Article Writing • Blog
Tagged with: creating content • make money blogging
I'm Monja, the owner of several websites, amongst others
Digidesignresort.com
and
CMDacademy.de
. I make my money online since 2011 and as a teacher I love to teach others how to do the same - personally. You can connect with me here and on
Google +
Do you like what you read? Please Share