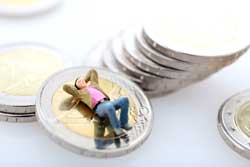 When many people look at a blog, they think that it is just an online journal of somebody with a lot to say (and obviously a lot of time). At best, they would expect certain pictures or information but most people would think that it is a glorified online journal. There is a lot of truth to that. However, if you are trying to make money through blogging, you have to look at your blog as something other than your online daily journal or diary. You have to look at it for what it truly is – an online business. That's right, you heard it here first. Your blog can definitely make you money. How? You implement different income streams in your blog and write 😉
Here are some blogging income streams you can use:
1. AdSense
AdSense is a contextual based advertising program from Google. It uses the trigger words in your content to pull up certain ads. If you want to make money with AdSense, make sure that you get traffic from certain high-income countries like US, Canada, UK, Europe and many others. Make sure that you trigger ads that pay well. Not all content pulls up high-paying ads. Make sure that you write your content in such an engaging way for people to click on the ads for more information. On Google Adwords, where webmasters can run advertising, they bit on certain keywords. For that, they are displayed on other websites or on the top of the search engines. Other webmasters, who are member of Google Adsense and allow displaying these ads, get some money when someone clicks on the ads. To earn a lot with Adsense you need to target the right niches. For example: When you write about weight loss a lot of webmasters bit on such a keyword. Therefore, a click is expensive. So if you have a weight loss blog and display Google Adsense Ads on your blog you earn much more per click than with a blog about Australian hamsters.
2. Affiliate programs.
Sure you can easily put AdSense ads all over the place on your blog (make sure you don't annoy your visitors with too many ads) and they are triggered by your content. If you are serious about blogging for money, however, you should consider earning money with affiliate programs. By this, you control the discussion when you put up a blog post. You control what the readers are paying attention to. For example, if you tell your readers about a product you have recently used and link to the merchant with your affiliate link you earn a commission if someone purchases through your link. It is at no extra cost for the customer so it is a win-win-win situation: the customer gets quality information for free (your article), you get a commission and the vendor has made a sale he otherwise wouldn't.
3. Sell your own products.
This is really the gold standard of making money through blogging – selling your own product(s). It is all about you and how you look at the world. So what better product to sell than something that you have produced yourself? This is not an easy path to making money because you have to establish a certain level of credibility and legitimacy with your readers first, but it is well worth it. Creating your own product isn't an easy process. E.g. writing a book needs a lot of discipline. But it is well worth – last but not least because it shows that you are an authority in your niche.
It doesn't matter if you go with one or all of these options on your blog. You could definitely do all without being annoying to your customers. But please, stick to it. Success doesn't come overnight but it does when you really stick to your plan and write a lot of content.
Need someone holding your hand along the way?
Join the Living For Mondays Academy and I'll be there to help you succeed online!
Filed in: Internet Marketing
Tagged with: blogging income streams • make money blogging • make money online
I'm Monja, the owner of several websites, amongst others
Digidesignresort.com
and
CMDacademy.de
. I make my money online since 2011 and as a teacher I love to teach others how to do the same - personally. You can connect with me here and on
Google +
Do you like what you read? Please Share