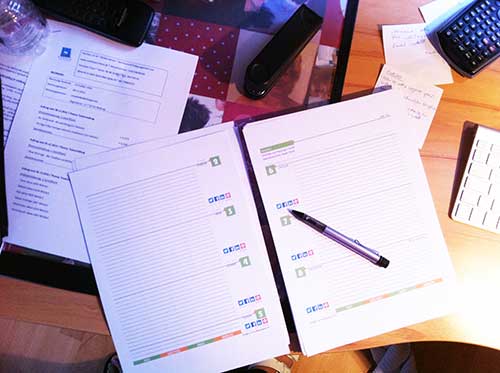 It's this time of the year again where we make New Year's Resolutions and also plan our business for the next year. Since I spend now with my mum a few days on planning for the next year I thought I share with you why this is so important in my eyes. Learn more about content planning in this tutorial.
As an online business owner, you know that content is one of the best tools you have. It drives traffic. It provides your audience with the value and information they seek. It also helps you market your business, products or services. Content is essential for online marketing success. You can achieve greater success if you take the time to plan your content. I don't mean to sit down and write a year full of blog posts or even headings. You need to be able to react to events throughout the year. So no question, your website won't be passive just because you've planned ahead. But even in times when you find it hard to stick to your schedule you are well set up and therefore you can easily keep up with your work. Trust me, there will be these times over the year. Your little child might get ill and needs your attention, you might need to help your mum or simply feel burned out and meet friends. With the right planning you get through these times and – in best case – your readers won't even realize that you've been absent.
Why is Content Planning important?
Content planning is simply the process of taking a look at your calendar and deciding what to write and when to publish it. Content planning involves a few primary criteria. Make sure though that you leave some dates out so you have still room to change your schedule. Sometimes it's just an idea you have or a reader asks for a specific series of articles and you want to be able to take care of these things. Or, maybe, you just plan and be aware that you adjust your schedule based on your audiences' needs.
Ask yourself:
When will you publish the content?
Set up a schedule when you want to publish content, e.g. 2 times per week, 3 times or even every day? Make sure you choose a schedule which fits to your life. But also be aware: The more you publish, the faster your site will grow and therefore bring in the money.
Where will you publish it?
You have your blog, yes. But when you create a video for example, it would be sad just to put it on your blog. Make sure you are seen and "be everywhere" (as Pat Flynn says) and publish your video to more than one video sharing site, or put it also on your Facebook site, etc. The more people you attract the more you fans, subscribers and readers you get.
 What will you write about?
Don't forget to check back with your audience. For example, go to forums and see what questions your audience asks. There is no value in content your audience doesn't need. If they don't ask it, you don't need to write about it. It's that simple.
What is the purpose of the content?
Do you want to engage your readers? Get them to comment? Click on your affiliate link? Think about the purpose your article has before your start writing. This way you keep your goal in mind.
What are your keywords?
As mentioned before already, keywords play a huge role in online marketing. If you target the right keywords, you will attract the right visitors for your website.
How can you repurpose the content?
In case you are interested, I wrote an entire article about how you can repurpose your content, e.g. you can create a video from a blog post or a presentation. So more people will be able to see it.
Think about how far ahead you want to plan your content. As mentioned above, there might be times throughout the year where you want to change your strategy or simply publish other content. Many online business owners take a tiered approach. They plan large content projects for the entire year. For example, they may publish a report each month. They also take a look at their content on a quarterly or monthly level and adjust it – it's up to you. Make sure it sticks to your lifestyle and conditions. The main is that you can stick to your schedule through hard times.
I hope after this article you consider to plan your content but if you are still struggling to plan it effectively, consider the following tips:
Use a calendar that gives you a big picture and you can write on. A paper desk calendar is a great planning tool. You can write your content ideas in pencil for easy modifications. Then, if you prefer electronic organization, you can transfer the paper plan to your Outlook or e-calendar. Right now I use the FREE Blogging Planner from Lynette Chandler (see picture above) – check out the review here. But I'm also a friend of the calendar tool in WordPress (free plugin) so I can see when I've scheduled which article and make changes with drag and drop if necessary.
Plan how you'll integrate your content into your marketing strategy. It's not just about writing. You also want to get most from it – e.g. shares on Pinterest, clicks, sales or whatever the purpose of a specific article is. For example, you could decide that in March you're going to publish ten articles on article directories. If you can, make sure this content ties into any season or holiday so you make the most of it. You don't just write for the sake of writing. In the long-run you want to serve your audience of course but you also want to make a living from your business. You'll also want to ensure it supports any new products or services. It may be simply to drive traffic to your website. Or it may be to drive traffic to a sales page or increase your opt-ins.
Leave room for change. The best content plans leave room for inspiration. The greatest ideas often come out of the blue. If you are a stickler for your plan and do not allow room to add your content inspiration into the mix, then you are missing out for yourself and your customers.
Finally, don't forget to take a look at how you can repurpose your content. It is a great way to get the most return on your investment and it can also help to fill content gaps.
When you plan your content, make sure you are looking at both, the macro and micro picture. Make sure you look ahead and take the entire year into consideration. At the same time, plan your content right down to the keywords and topics.
Planning your content for the entire year may take a day or two to accomplish but it will save you tons of time down the road as well as headaches. Instead of wondering what you are going to write on, you'll have the answers all worked out. Best of all, your content will fit with your other marketing efforts to create a comprehensive business growth plan.
Liked this how to article?
Sign up for our newsletter to get more valuable tips!
Filed in: Article Writing • Blog
Tagged with: blog content • blog content creation • content
I'm Monja, the owner of several websites, amongst others
Digidesignresort.com
and
CMDacademy.de
. I make my money online since 2011 and as a teacher I love to teach others how to do the same - personally. You can connect with me here and on
Google +
Do you like what you read? Please Share